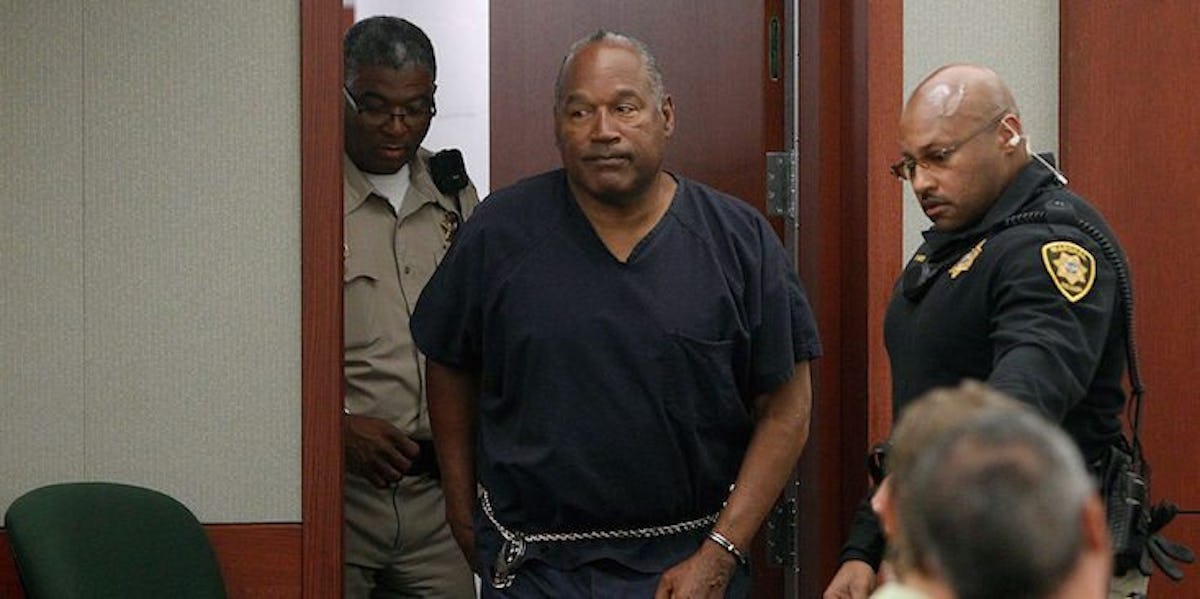 OJ Simpson's Parole Hearing Lawyer Is A Las Vegas Personal Injury Attorney
Steve Marcus-Pool/Getty Images
The saga of OJ Simpson, the Hall of Fame running back who was at the center of one of the most infamous murder trials in U.S. history in the mid-90s, continues this week.
Simpson's lawyer, Malcolm LaVergne, will be with him for a parole hearing in Carson City, Nevada on July 20.
Simpson has been in prison for almost nine years at this point. In 2008, he was convicted of kidnapping, armed robbery, and assault with a deadly weapon in relation to an incident in a Las Vegas hotel room involving sports memorabilia.
But, he's apparently been on his best behavior while behind bars, and has a good chance of gaining parole, according to ABC News.
Simpson's lawyer, LaVergne, is definitely hoping for success at the parole hearing.
LaVergne is a personal injury attorney and graduate of Cornell Law School, according to his website.
Not long after he finished law school, LaVergne opened his own law firm, Malcolm P. LaVergne & Associates in 2005.
According to his website, LaVergne is fluent in English and Spanish and is permitted to practice law in Nevada, New York, and Texas.
In addition to being a lawyer, LaVergne claims to have worked as a security guard, construction worker, ambulance driver, and volunteer firefighter.
LaVergne began representing Simpson after he was convicted in relation to the incident in the Las Vegas hotel room. He hoped the court would grant an appeal, but it was ultimately rejected.
But, LaVergne seems to have better chances of success on Thursday.
Simpson will appear at the hearing through a video call from Lovelock Correctional Center, according to Page Six.
"If [Simpson is] able to get parole, my prediction is he's going to want to live a quiet life," LaVergne said in a recent interview, according to ESPN.
LaVergne will be with Simpson at Lovelock Correctional Center during the parole hearing, the Associated Press reports.
If you're interested in watching the hearing, there are plenty of ways you can tune in.