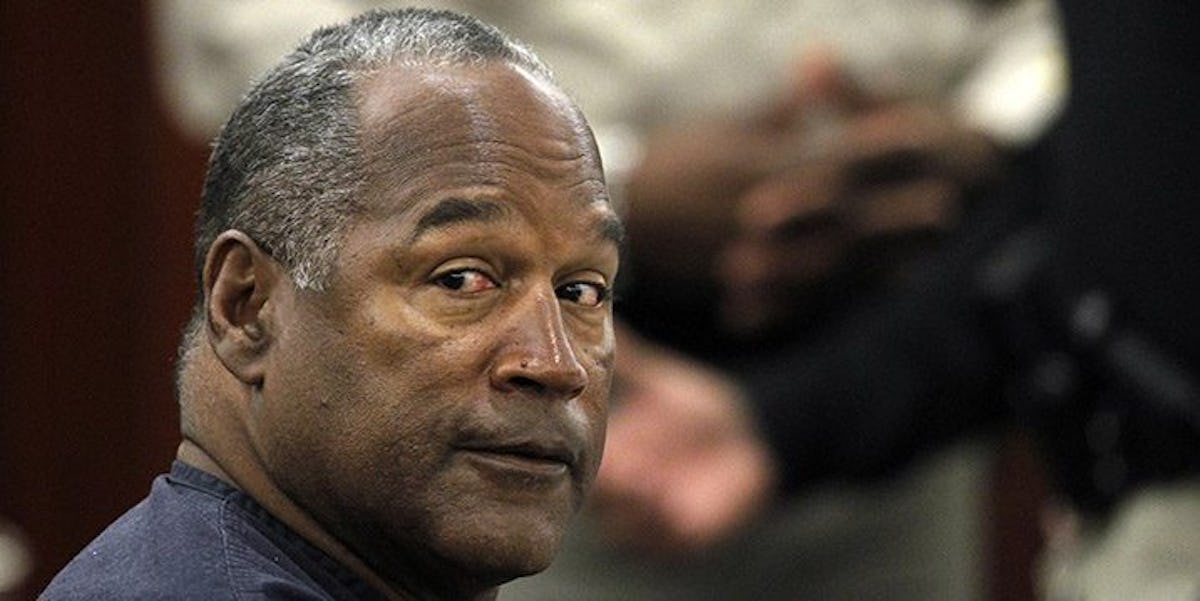 OJ Simpson Is In Jail Because Of An Intense Robbery, But He Might Get Parole
Ethan Miller/Getty Images
OJ Simpson is relevant again, and for a very simple reason.
Nine years after being found guilty of armed robbery and other charges, and over two decades after his infamous murder acquittal, Simpson may be released from prison later this year.
The keyword is "may."
Whether or not the 69-year-old former NFL star is granted that release depends on the result of Simpson's parole hearing, which is set to be held on Thursday, July 20.
Should the hearing work out in Simpson's favor -- or, in other words, should he make parole on seven of the 12 original counts made against him in 2008 -- he could be released as early as Oct. 1, according to CNN.
Simpson's current sentence stems from a 10-year-old incident that occurred in Las Vegas.
On the night of September 13, 2007, Simpson and five other men allegedly entered the Palace Station hotel to confront Alfred Beardsley and Bruce Fromong, according to Las Vegas Now. Beardsley and Fromong were memorabilia dealers.
The meeting was arranged by memorabilia dealer Thomas Riccio, who told Beardsley and Fromong that a buyer was coming to the hotel to purchase memorabilia, the Los Angeles Times reported.
The pair of dealers were not expecting Simpson's crew, however, and the visiting men ended up walking out with several pieces of memorabilia, including footballs signed by Simpson himself.
Video shows the moment OJ and the men walked into the hotel.
Prosecutors argued that Simpson plotted the incident, forcing the men into giving up the memorabilia, while aided by two armed accomplices.
Simpson, for his part, pled not guilty and argued that he didn't know two of his associates were armed and said he'd gone to the hotel to retrieve his own property, according to CNN.
Four of the men plead guilty before the trial and ended up testifying for the prosecution. Those four of the five men who accompanied Simpson received probation sentences and did not serve jail time. A fifth man, Clarence Stewart, accepted a plea deal in 2011 to be freed from prison.
Simpson is the only one still serving a prison sentence, due to his convictions on 10 counts, including kidnapping and assault with a deadly weapon.
In 2013, Simpson was already granted granted parole on multiple convictions that stem from the 2008 case. If Simpson makes parole this summer on seven more counts, per CNN, he'll soon be able to walk out of prison.