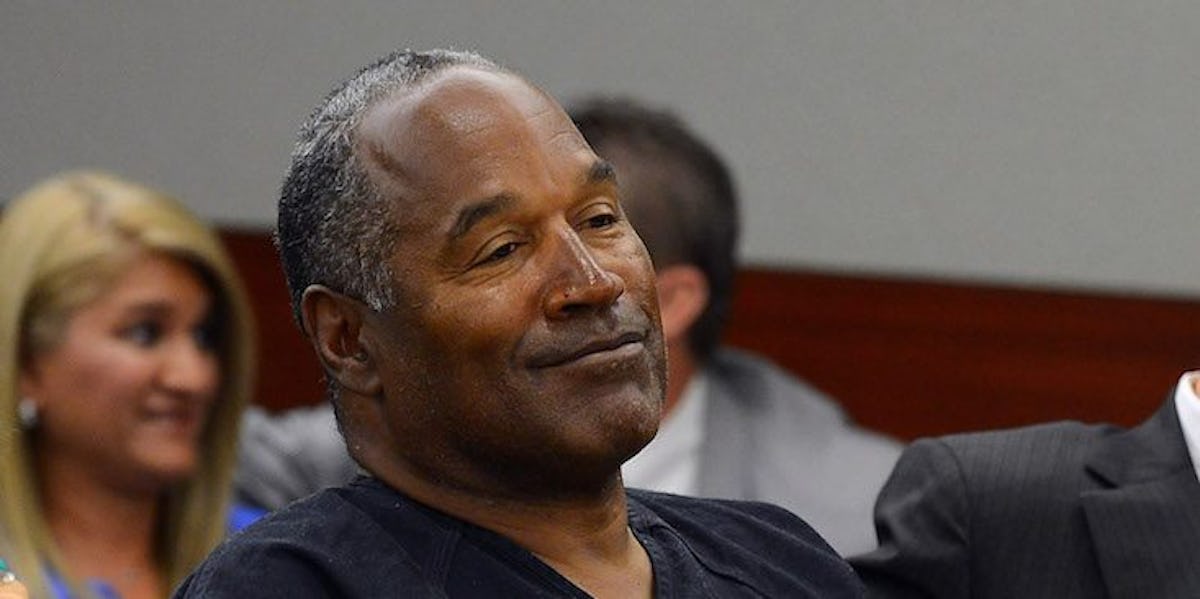 If OJ Simpson Gets Released From Prison At His Parole Hearing, He Might Be Rich
Ethan Miller/Getty Images
O.J. Simpson, who in the 21st century is perhaps most famous for the crime he was acquitted of, may soon be released from prison for the charge he was convicted of.
Simpson, who was convicted of robbery in 2008, is coming up on a parole hearing on Thursday, July 20, and by all accounts, he seems likely to be released. He was granted parole by the same board on lesser charges in 2013, according to the Associated Press, and no one — including his victim — is expected to oppose his release this go-round. Things are looking good for him.
So — what happens if he gets to walk free?
Well, according to several sources, he's definitely not going to be hurting for money.
A friend of Simpson's told USA Today that Simpson is sitting on a personal pension in which he invested $5 million "many years ago," and so likely is worth more in 2017. On top of that, Simpson also has a pension from the Screen Actor's Guild from his acting and producing credits.
But the big one is his NFL pension, which is estimated to pay him up to $25,000 per month, according to a report from Sports Illustrated.
"He'll be okay," friend Tom Scotto told USA Today. "He's not going to be poor. He'll survive."
The funds are despite the fact that Simpson was ordered to pay $33.5 million in damages in a civil lawsuit brought by the families of his ex-wife, Nicole Brown, and her friend, Ron Goldman, in 1997, according to Sports Illustrated. He has so far managed to avoid paying out thanks to legal loopholes. Simpson was famously (and controversially) acquitted of the pair's murder after a sensational trial in 1995.
But comfortable cushion or not, he's not exactly expected to be living the high life post-prison.
His friend Scotto said that Simpson plans on a quiet life, potentially moving in with his friend in Florida before buying a house. Golf, Scotto told USA Today, is definitely on the agenda.
Despite Simpson's association with the notorious murder of his ex-wife, the crime that sent Simpson to jail was much more ordinary — and, thankfully, much less gruesome.
Simpson was convicted of robbery in 2008 for an incident the previous year in which he and a few other men went to a hotel room to retrieve sports memorabilia that Simpson said belonged to him. Two of the men carried guns, and Simpson was convicted on 12 charges, including armed robbery and kidnapping. He was sentenced to 33 years in jail, with the possibility of parole after nine years. And in 2017, his time has come.
The parole hearing will be televised on a number of networks. Here are all the ways you can tune in.