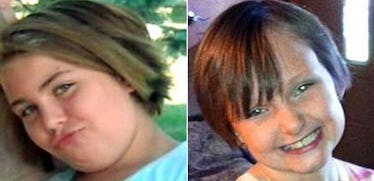 New 'Snapchat Killer' Theory Says Girls Killed On Hike Weren't First Victims
Carroll County Sheriff's Office
A new development in the investigation of the so-called "Snapchat Killer" and the double homicide of two Indiana teens suggests the two girls may not have been the killer's first victims.
Abigail Williams, 13, and Liberty German, 14, were murdered in the woods after a relative dropped them off for a hike along the Delphi Historic Trails last month.
Now, disturbing parallels are being drawn between this double murder and a very similar case back in 2012.
Lyric Cook, 10, and her 8-year-old cousin Elizabeth Collins were allegedly murdered just a couple hundred kilometers away from where Abigail and Liberty were found in Indiana.
Both sets of girls were alone on nature trails when they disappeared, and both were then left for dead in the woods. Abigail and Liberty were murdered on February 13, while Lyric and Elizabeth vanished on July 13.
Hunters had discovered the bodies of Lyric and Elizabeth at Seven Bridges Park in Bremer County in December 2012. Their remains were too decomposed to determine a cause of death or whether the girls had been sexually assaulted. To this day, their case remains unsolved.
After hearing about the murders of Abigail and Liberty, Drew Collins, Elizabeth's father, called up the detectives assigned to his daughter's case to see if the other double homicide was on his radar. To his relief, it already was.
Collins told KWWL.com,
I wanted to make sure they were looking at it and they were already ten steps ahead of me, looking at it. They contacted Indiana State Police. My heart just breaks for the families. I don't know what they are going through. I know what I went through and our family went through. It is just very hard, it doesn't get easier.
Abigail and Liberty were last seen alive at approximately 1 pm on February 13, after a relative dropped the girls off to go hiking near Monon High Bridge.
Just after 2 pm, Liberty took at least two pictures on Snapchat, including a photo of Abigail walking along the bridge.
The girls' bodies were found on Valentine's Day about a kilometer away from where they were originally dropped off.
During the ongoing investigation, police released eerie pictures of a man seen walking in the same area where Liberty and Abigail were hiking.
Authorities also recovered an audio clip from Liberty's phone, in which a man's voice can be heard saying, "Down the hill." However, it is not clear whether the voice belongs to the man from the pictures or an unseen accomplice.
Indiana State Police Sergeant Tony Slocum called Liberty a "hero" and praised her for having the "presence of mind" to turn the video camera on in the final moments before her and her friend's tragic deaths.
Sergeant Slocum said,
We are actively looking for this person. This person is our suspect.
Indiana State Police Superintendent Doug Carter added,
Someone knows who this individual is. And if you're watching, we'll find you.
Citations: HAS SNAPCHAT KILLER STRUCK BEFORE? Cops probe link between Snapchat killing of two teenage girls and unsolved double murder of two cousins (The Sun), Similarities between Indiana murders & Lyric and Elizabeth (KWWL.com)