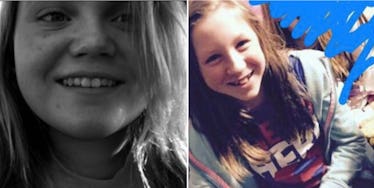 Girls Record Chilling Voice Of Alleged Killer On Phone Before Vanishing On Hike
Facebook
Two girls who were murdered while hiking in Indiana may have given one last clue to police about the identity of their killer.
Liberty German, 14, who was killed along with her friend Abigail Williams, 13, has been hailed a "hero" for capturing a man's voice on her phone in her final moments.
The short clip, found as a video on Liberty's phone, features a man's voice saying, "Down the hill."
Police revealed the picture taken of a man close to where the teens' bodies were found was also captured by the 14-year-old, DailyMail.com reports.
Indiana State Police Sergeant Tony Slocum said,
This young lady is a hero. There's no doubt.
He praised her for having the "presence of mind" to turn the video camera on and asked for the public's help in identifying the voice.
The two girls were last seen by a family member at the Delphi Historic Trial on February 13.
And in final Snapchats taken shortly after, they were pictured walking along the Monon High Bridge — the same place where Liberty took the picture of the unknown man who police want to speak with.
In the image, he has his head down and hands in his pockets, and is wearing jeans, a blue jacket and a hat.
Sergeant Slocum added,
We are actively looking for this person. This person is our suspect.
And Indiana State Police Superintendent Doug Carter said,
Someone knows who this individual is. And if you're watching, we'll find you.
Nine days on from the double murder, police are still appealing to the public for information about the crime.
The girls' bodies were found the next day, but it is not known in what condition they were found or how they died.
Anyone with vital information could be entitled to a reward of $41,000, due to funds from the FBI, a local business and a local family.
Citations: DailyMail.com