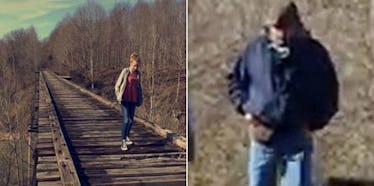 Eerie Pic Released Of Man Walking Where Girls' Bodies Found After Last Snapchat
Snapchat/ Police
Police have released suspicious photos of an unidentified man walking in the same area where the bodies of two teenage girls were found dead.
Liberty German, 13, and Abigail Williams, 14, were dropped off by a family member to hike the Delphi Historic Trail in Indiana on February 13.
During their trek, Liberty posted Snapchats that showed Abigail walking across a railway along the trail known as the Moon High Bridge.
Hours after the photo was snapped, the teenagers were reported missing and their bodies were found near a creek less than a mile away from the bridge.
During the ongoing investigation, police released eerie pictures of a man seen walking in the same area where Liberty and Abigail were exploring on Monday, DailyMail.com reports.
The photos show a man wearing a navy blue jacket with his hands in his pockets. He appears to be wearing a brown hat and jeans, and is walking along the wooden bridge.
Authorities have not revealed where they found the picture, but it's been reported they checked the girls phones upon discovering their bodies.
The man in the photo has not been considered a suspect, and police hope to eventually find him and talk to him about what he might've witnessed on Monday along the trail.
Authorities released a public statement regarding the photos, saying,
We are asking help from the public to help identify him so he can be contacted regarding what he might have seen
It's been reported the girls were dropped off at the trail by Liberty's sister around 1 pm on Monday, February 13.
Liberty posted two Snapchats at approximately 2:07 pm, which show Abigail walking along the railroad bridge in one and an extended view of the wooden railroad in another.
Alarms were raised after the teens didn't come home on Monday night, and they were reported missing hours after the final Snapchats were sent.
Their bodies were found the next day less than a mile away in an area only accessible by foot or horse.
The area where their bodies were uncovered is considered an active crime scene, and police are still investigating the cause of their deaths.
However, police did confirm the teenage girls were murdered and have not released further information about the condition in which their bodies were found.
They are awaiting autopsy results to declare the definite cause of their deaths.
In the meantime, police hope to track down the man seen in pictures at the time Liberty and Abigail were walking along the trail.
They said,
If you can identify the subject or were parked in the lot, please contact the Carroll County Sheriff's Department or the Delphi Police Department at 765-564-2345 or the Indiana State Police at 765-567-2125. You can remain anonymous if you request.
Citations: REVEALED: Police in Indiana release grainy picture of man walking near to where two 13-year-old girl's were found dead after hiking and ask for help in identifying him (DailyMail.com)