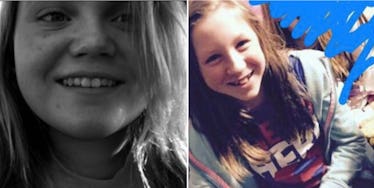 Girls Post Haunting Last Snapchats Before Bodies Are Found Dumped In Creek
Facebook
A missing teenage girl posted a poignant image of her friend walking across a railroad bridge before two bodies were found less than a mile away.
The photo, posted on Snapchat by Liberty German, is believed to be the last picture taken of Abigail Williams.
The two 13-year-old girls had been dropped off to go hiking in Indiana at about 1 pm on Monday, but the alarm was raised when they went off the grid.
Officials launched a major search for the two girls, and have revealed two bodies have been found.
Sergeant Kim Riley of Indiana State Police would not confirm they belonged to the teen friends, but the search for the pair was immediately scaled back, RTV 6 reported.
Families of the girls have been studying the last photo of Abigail, in which she is seen walking across a creepy abandoned railroad bridge in Deer Creek.
A second Snapchat image taken by Liberty shows the long bridge, known locally as the Moon High Bridge.
The two bodies were found three quarters of a mile away from the bridge, where the girls were last seen.
Sergeant Riley said,
We are investigating this as a crime scene. We suspect foul play. The family asked us to thank the communities around Delphi and the people here in Delphi for assisting in attempting to locate the two young children who were missing here earlier.
He would not comment on any injuries the bodies appear to have suffered.
Delphi Police Chief Steve Mullins added,
I know it's had a terrible effect on our people and we are grieved this sort of thing would happen here in our community. We have a very good community and they are very strong.
On Monday night, search parties looked for the girls near the bridge, but were unable to find anything in the darkness, Carroll County Sheriff Tobe Leazenby said.
It is unclear if police believe there are suspects at large.
Citations: 13-Year-Old Missing Girls Found In Carroll County (RTV 6)