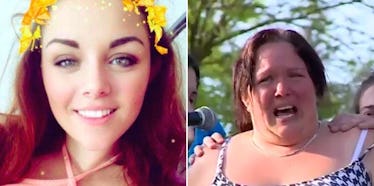 Mother Of Manchester Victim Makes Emotional Vigil Speech: "Please Stay Together"
Facebook/Twitter
Olivia Campbell, a 15-year-old from Bury, Greater Manchester, was one of the victims of Monday's attack at the Ariana Grande concert.
Her mother, Charlotte, posted on social media frantically looking for her daughter in the aftermath of the attack, but early Wednesday morning she confirmed Olivia had died.
Charlotte posted an emotional tribute, writing,
RIP my darling precious gorgeous girl Olivia Campbell taken far far to soon go sing with the angels and keep smiling mummy loves you so much
Olivia had reportedly attended the concert with her friend Adam who was being treated for his injuries at the hospital.
Heartbreaking photos and video of Charlotte Campbell show the mother breaking down at a vigil she attended in Bury.
Speaking to the crowd of people, Olivia's mom, who was joined by Olivia's stepdad, said,
I can't thank you enough for what you've done for us – for being here, for giving us your support, for sharing her everywhere. This is such a hard time for us, I had to come, I didn't know what to do, I don't know where to be, I don't know what to do. I just knew -- something told me I had to come here... As a family, we're united, we're standing strong. I ask her friends, strangers, relatives to do the same. Please stay together, don't let this beat any of us, please. Don't let my daughter be a victim.
All around Manchester, crowds of people gathered to mourn the loss of lives in the horrific attack. There was a minute of silence held on Thursday and flags remain at half-mast.
In another post on her Facebook page, Charlotte wrote,
Want to thank everyone for all there lovely messages I've so many to get through and cannot possibly reply to each one separately I'm completely broken at the moment but your words are comforting so thank you from myself Paul and the rest of my family xxx
We continue to send love to all of those affected.
Citations: A mother's pain: Olivia Campbell's mum begs not to let terror 'beat any of us' (Metro)