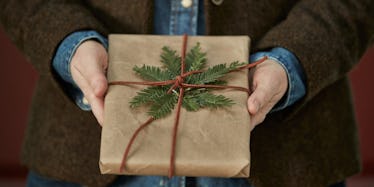 The Most-Returned Christmas Gifts Of 2016 Will Make You Question Your Choices
I'm lazier than I am frugal, so whenever I'm given a present I don't like, I just keep it.
But other people are smarter and more normal than me, which means that when they get a CD from their grandmother, they return it for money. If they can't return it, they trade it in.
One of the largest websites for trading in unwanted gifts during the holiday season is Musicmagpie.
Since its launch in 2007, $145 million worth of items have been sold on the site. And the site just released its numbers on the most unwanted holiday presents of 2016.
Check it out:
Top five traded CDS
Adele, 25
Justin Bieber, Purpose
Now That's What I Call 93!
One Direction, Made in the AM
Coldplay, A Head Full of Dreams
Musicmagpie reported 32,158 copies of Adele's third studio album traded in on its site.
Before you shout at your computer in protest about how "GOOD THAT ALBUM IS," these numbers are probably caused by older people not realizing that their nephews, nieces, children and grandchildren either already have this album, or can get it anywhere for free streaming.
Top five traded DVDS
"Frozen"
"Spectre"
"Star Wars Force Awakens"
"Jurassic World"
"Fast & Furious 7"
"Frozen" was the most traded in DVD with 25,840 copies sold on the site.
Again, anyone being gifted this is probably a kid, and every kid on the planet has a copy of this movie already.
Top five traded tech
iPhone 6S
iPhone 6
Playstation 3
Samsung S6
iPhone 5S
Liam Howley, the marketing director of Musicmagpie says, especially in tech, people have become part of "upgrade culture." He adds,
People now realize that there is no point hanging on to old phones or tech, people are replacing mobile phones, tablets and consoles more often. We've seen a sharp increase in the number of iPhone 6 and 6s models being sold since the iPhone 7 was released and that has continued over the Christmas period.
He says that trade-ins were at a record high this year in general:
Customers looked to make money by selling these unwanted items to either recoup the money spent on Christmas presents, or simply to get rid of the clutter whilst making some quick cash.
Top five traded games
"Infinite Warfare"
"Battlefield Hardline"
"GTA V"
"Fallout 4"
"FIFA 16"
"Call of Duty: Infinite Warfare" just isn't as good as "Battlefield 1," so obviously it's the most traded in. This isn't editorializing, either. It's just not as good. That's a fact. Objectively. It's in the Bible. No, not that Bible, the sequel: "Bible 2.0: Nobody Gonna Catch Jesus Slippin' This Time." Yeah, there's a whole section for game reviews.
Uh, happy holidays.
Citations: DailyMail.com