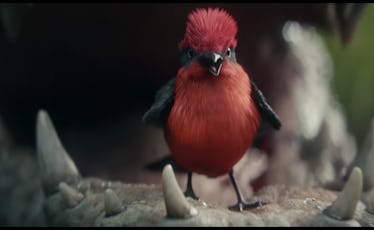 Megan Thee Stallion And Charlie Puth's Full Super Bowl Ad Is A Wild Sing-Along
ICYMI, Flamin' Hot released its very own commercial dedicated to the spicy flavor for the 2022 Super Bowl. A teaser released on Jan. 19 confirmed Megan Thee Stallion as the star in the wild Flamin' Hot spot, but when Frito-Lay dropped two more teasers on Jan. 24, fans were thrilled to see another music star make a cameo: Charlie Puth. Frito-Lay ended the wait early when the brand dropped the full ad on Feb. 1. As you prep for the big game on Feb. 13, watch Megan Thee Stallion and Charlie Puth sing "Push It" in Flamin' Hot's wild Super Bowl 2022 commercial.
Megan's animal-filled Jan. 19 teaser was filled with plenty of surprises, and from there, the lead-up to Flamin' Hot's Super Bowl ad just got a lot more interesting. The biggest surprise — aside from Flamin' Hot-dusted paw prints and a sloth — was Charlie Puth's involvement in the spot. The animal theme was still going strong in these trailers, and there was still so much unknown.
Megan's teaser opened on the Hot Girl walking back to her set trailer while snacking on a bag of Flamin' Hot Cool Ranch Doritos. Her trailer door — clearly marked "Megan Thee Stallion" — wouldn't budge, out popped the hand of a three-toed sloth (!!!). Needless to say, Meg was not ~amused~. In Puth's teaser, the megastar showed off his beatboxing skills and entered his trailer, which was quite a mess. The interior was covered in at least four different types of paw prints in that classic red Flamin' Hot dust.
Cut to Feb. 1, and the animals and sample of Salt-N-Pepa's "Push It" at the end of both teasers made so much sense. No, Megan and Puth aren't starring alongside actual animals; instead, they're part of the animal sing-along. In the ad that encourages you to "unleash your Flamin' Hot." Megan stars as a red-and-black songbird, and Puth is a beatboxing fox. They join crocodiles, a sloth, water buffalo, and more animals in a rendition of "Push It" while a birdwatcher looks on as their Flamin' Hot snacks are snapped up by the animals.
It was a wild ride to the even wilder final Super Bowl commercial. Remember the Jan. 19 teaser with the laundry list of animals Megan was asked if she was allergic to? Watch it all come together in the Flamin' Hot Super Bowl 2022 commercial, with Megan as the fiery bird and Puth as the fox with major beatboxing skills:
For more of the Flamin' Hot and "Push It" mash-up, check out Megan's limited-time single — "Flamin' Hottie" — which puts a spicy twist on the 1986 classic.
This article was originally published on