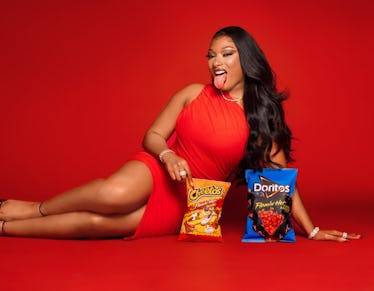 You Might Not Recognize Megan Thee Stallion And Charlie Puth In This Super Bowl Ad
You'll definitely recognize the song, though.
Courtesy of Frito-Lay
In the lead-up to the first-ever Flamin' Hot Super Bowl commercial, Frito-Lay has been dropping major hints. It began on Jan. 7, with an image of a top-secret celeb spokesperson's hand, which turned out to be Megan Thee Stallion. Then, there was a teaser with the mention of wild animals, and a week later, Charlie Puth popped up in yet another trailer. Finally, on Feb. 1, fans wondering who exactly is in Doritos' and Cheetos' Flamin' Hot Super Bowl 2022 commercial got their answer: Megan Thee Stallion and Charlie Puth star in the spot — but you might not recognize them right away.
The Cheetos-Doritos crossover commercial centers around an old classic, Cheetos Flamin' Hot Crunchy, and the latest fiery hot snack to hit the market, Doritos Flamin' Hot Cool Ranch. Flamin' Hot's road to the final ad was paved with teasers to keep you guessing. First, the ultimate "Hot Girl" was revealed as the Flamin' Hot Doritos and Cheetos Super Bowl commercial spokesperson on Jan. 19, alongside a teaser trailer that promised quite the wild ad — ya know, thanks to the mention of crocodiles, water buffalo, and bears...
Getting closer to the full spot, the brand released two teasers on Jan. 24, this time throwing Charlie Puth into the mix. There were Flamin' Hot-dusted paw prints of all kinds, and it led right into the wild commercial released Feb. 1, nearly two weeks before it'll air in primetime during the 2022 Super Bowl on Feb. 13. Water buffalo and crocodiles make an appearance alongside Megan, who voices a red-and-black bird, and Puth, who brings a beatboxing fox to life. The two belt out a rendition of Salt-N-Pepa's "Push It," and though you might not see their faces, you'll definitely recognize their voices, as they sing the classic through the end of the commercial.
Even before fans had to guess which animals the superstars are, Flamin' Hot kept them on their toes with images of a mystery hand holding Flamin' Hot Cool Ranch Doritos and Flamin' Hot Cheetos. People on Twitter had a few guesses: Some (correctly) thought the Flamin' Hot spokesperson is the Hot Girl herself — Megan Thee Stallion — while others predicted Saweetie or Cardi B.
After some detective work, though, one Megan Thee Stallion stan solidified their case thanks to a post from Dec. 14, 2021 on Megan's Instagram. In the picture, you'll see a diamond ring and bracelet combo that looks very similar to the jewelry displayed in the Doritos pic, although the nails are not the bright red you see in the picture.
While the Meg reveal has been out for some time, people were not-so-patiently waiting for the final ad. Check out the full Flamin' Hot Super Bowl 2022 commercial with Megan Thee Stallion and Charlie Puth below, and look out for their animal alter-egos:
If you can't get enough of the ad, be sure to tune into the Super Bowl on Feb. 13 to see it all over again — and by then, you'll know exactly where to spot the superstars.
This article was originally published on