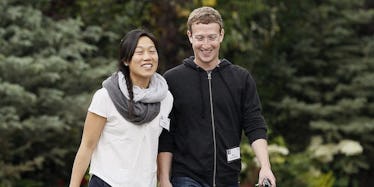 Mark Zuckerberg Reveals Gender Of Second Baby In Adorable Facebook Post
REUTERS
Get your tissues ready, guys.
Mark Zuckerberg just announced on Facebook he and his wife, Priscilla, are expecting another baby girl!
This is obviously exciting news, but what makes it even better is how much the happy couple truly deserves this.
During their first time around the baby-makin' block, Mark and Priscilla sadly had three miscarriages before they were blessed with their baby girl, Max.
Mark wrote in that Facebook announcement two years ago,
You feel so hopeful when you learn you're going to have a child. You start imagining who they'll become and dreaming of hopes for their future. You start making plans, and then they're gone. It's a lonely experience. Most people don't discuss miscarriages because you worry your problems will distance you or reflect upon you — as if you're defective or did something to cause this. So you struggle on your own.
Now, Mark and Priscilla will have not one, but two amazing futures to plan for their baby girls.
I'm already near tears as it is, but we need to talk about how freaking ADORABLE Mark's more recent Facebook announcement was for the new Zucker-baby.
In the post, he wrote,
After our difficult experience having Max, we weren't sure what to expect or whether we'd be able to have another child. When Priscilla and I first found out she was pregnant again, our first hope was that the child would be healthy. My next hope was that it would be a girl. I cannot think of a greater gift than having a sister and I'm so happy Max and our new child will have each other.
He continued,
I grew up with three sisters and they taught me to learn from smart, strong women. They weren't just my sisters but some of my best friends. They've gone on to write books, excel at performance, music, sports, cooking and their careers. They showed me how to compete and still laugh together afterwards.
Mark said Priscilla grew up with two sisters of her own, who "taught her the importance of family, caring for others and hard work."
He included childhood pictures of him with his sisters, and Priscilla with her own:
He wrapped up the post, seemingly in the afterglow of the spirit of International Women's Day,
We are all better people because of the the strong women in our lives -- sisters, mothers and friends. We can't wait to welcome our new little one and do our best to raise another strong woman.
Amen to that.
Congrats, Zuckerberg family!