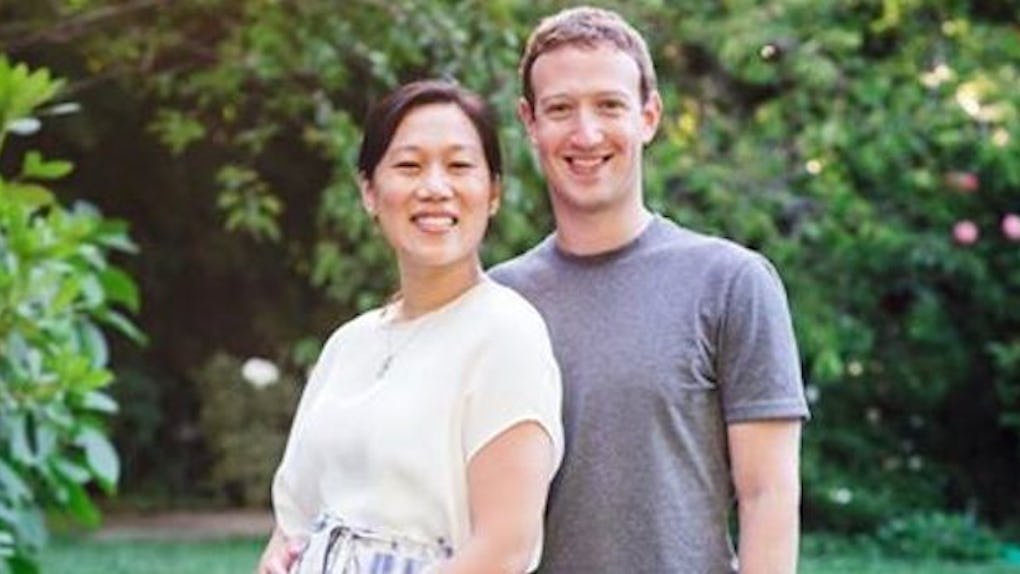 Facebook
Mark Zuckerberg And Wife Announce Their Pregnancy On Facebook, Of Course
There is a Zucker-baby on the way!
Priscilla Chan and Mark Zuckerberg officially have a program in the App Developer Center (that's Facebook lingo for "Priscilla is pregnant").
The founder of Facebook announced on his page he and his wife are expecting a baby girl to join the Zuckerberg clan very soon.
In the emotional post, Zuckerberg is unusually candid about having problems conceiving in the past.
He wrote,
We want to share one experience to start. We've been trying to have a child for a couple of years and have had three miscarriages along the way. You feel so hopeful when you learn you're going to have a child. You start imagining who they'll become and dreaming of hopes for their future. You start making plans, and then they're gone. It's a lonely experience. Most people don't discuss miscarriages because you worry your problems will distance you or reflect upon you -- as if you're defective or did something to cause this. So you struggle on your own.
He continued by talking about how the modern society he very much helped to create makes it easier for couples going through similar medical problems to talk about their struggles.
Zuckerberg said,
In today's open and connected world, discussing these issues doesn't distance us; it brings us together. It creates understanding and tolerance, and it gives us hope.
Zuckerberg also points out the pregnancy is, fortunately, far enough along that the risk of losing the baby is "very low."
According to the post, Priscilla and the baby are healthy, and Mark even got to have a small interaction with the Zucker-baby during a recent ultrasound.
He joked,
In our ultrasound, she even gave me a thumbs up 'like' with her hand, so I'm already convinced she takes after me.
I'm really enjoying the swooning, baby daddy version of Mark Zuckerberg right now.
Priscilla and Mark look great, and I can't wait for more pictures to be posted of the baby riding that mop-like animal they have as a pet.
Citations: Let them eat cake women hit back at fat shaming troll (The Guardian)