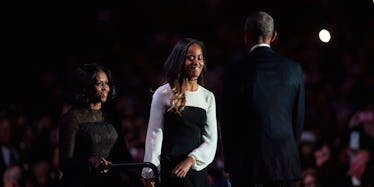 Malia Obama Is Starting Harvard Soon, And We're All Dying To Know Her Major
Darren Hauck / Getty Images
We're officially in back-to-school season again, which means it's just a matter of time until the annual return of the Starbucks holiday drinks. No matter how you feel about college, we can all get really pumped about this. But this fall is more exciting than usual, because former President Barack Obama's oldest daughter starts college at Harvard University in just a couple short weeks, and we still don't know what Malia Obama's major will be.
Obama announced her decision to attend Harvard University in May 2016, taking a gap year first. While she hasn't given us any indication as to what she'll be studying, it's possible she'll opt for something in the entertainment or film industry, given her résumé.
The 19 year old has continued to beef up her entertainment experience in the last year. Aside from traveling, she's found the time to intern with Hollywood producer Harvey Weinstein and attend Lollapalooza and the Sundance Film Festival, according to Town & Country. Before that, she worked on the set of HBO's Girls. Not too shabby. Many have speculated that her education will coincide with this apparent interest in arts and culture. (Personally, I wouldn't be upset at the prospect of Obama, say, creating a TV show about her family. I'd totally watch that.)
It's also possible she'll follow in the educational footsteps of her parents, both of whom, according to New York Times, attended Harvard Law School. But speculation aside, Obama is still young, and just beginning her first of (presumably) four years. Any college student or graduate knows a lot can change in that time, as interests and passions develop. She really doesn't need to have her major figured out yet, and even when she does, it's her life and education, and especially as a student trying to focus amidst familial fame, it's understandable if she wants to keep her studies private.
Like many presidents' children, Obama will join the ranks of those just trying to balance being a student with staying out of the spotlight. Fortunately, Harvard is used to this, as many politicians' children to attend the school, the Times reported, and the university police has a dignitary protection unit to accommodate them.
Besides, Obama has a lot to look forward to in just getting started with her education. Harvard classes begin on Aug. 30, and the freshman move-in day is coming up fast, on Aug. 22. (It's unclear whether Mr. and Mrs. Obama, back on campus again, will take part in the parents' activities during orientation week, which include being "treated to a serenade by the Harvard Band.")
She's also got a new class of friends to get excited about. Model and Black-ish actor Yara Shahidi also announced that she'd be attending the Boston Ivy League school, and this year's freshman class is amazingly diverse, The Boston Globe reports. Because the coincidences never end, it turns out that Michelle Obama actually wrote Shahidi's recommendation letter (we're all jealous).
If you need a reason to celebrate after the depressing couple of weeks we've had, you can be hopeful knowing there are some incredible young women like Obama embarking on their educational journeys. Whatever she decides to do, we're confident she'll do more than just made the dean's list.