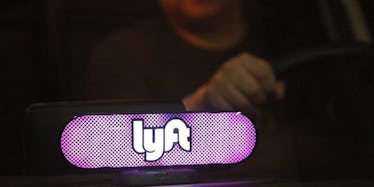 Lyft's Taking Action Against White Supremacy In The Wake Of Charlottesville
Getty Images
In the wake of the Charlottesville, Virginia, tragedy on Aug. 12, our country has remained divided. Some encourage unity and acceptance while others continue to support intolerance and hatred.  Certain companies have decided it's time to take a stand against the racism the U.S. is currently facing. For example, Lyft is fighting white supremacy and discrimination with a new partnership in hopes to promote equality.
UPDATE: The Southern Poverty Law Center (SPLC) told Elite Daily by email that they were "pleased" at companies taking a stand against hate. A statement from SPLC President Richard Cohen read,
In these troubling times as white supremacist groups are growing their numbers, holding more rallies, and encouraging more hate speech, we are pleased that industry leaders are speaking openly to their staffs about diversity, encouraging their workers to denounce bigotry, and taking public positions against hate.
EARLIER: A representative of Lyft told Elite Daily that the ride-share company was launching an "allyship campaign" to help demonstrate how to stand with underrepresented communities, as well as continuing to monitor protests to keep their community safe. Lyft also confirmed that the SPLC is the newest partner in the company's "Round Up & Donate" program, which allows riders to round up their fare and donate the change.
"We're committed to continue listening, learning, and acting to protect the safety and inclusivity of our community," co-founder John Zimmer said in an email shared with employees on Aug. 18.
On Aug. 19, the ride-sharing app reportedly announced it had joined forces with the Southern Poverty Law Center, a nonprofit that looks to fight discrimination and seeks justice for society's "most vulnerable," in order to help drivers who might encounter white supremacists during their shifts. The move is reportedly meant to promote inclusivity for the 66 percent of Lyft drivers who identify as a minority and the community those drivers interact with on a daily basis.
"Every ride is an opportunity to bring people of different backgrounds together," a note on the collaboration said, according to BuzzFeed.
Lyft and the SPLC will provide drivers with educational resources in the coming weeks. In response to threats of alt-right rallies throughout the country, Lyft is also providing safety alerts for drivers while encouraging them to report hateful accounts and use the critical response line when necessary. "We're committed to continue listening, learning, and acting to protect the safety and inclusivity of the community," the note concludes. Elite Daily has reached out to both Lyft and the SPLC for comment, but did not hear back by time of publication.
Safety and inclusivity are now more important than ever.
After a white supremacist rally in Charlottesville turned violent on Aug. 12th — claiming the life of 32-year-old Heather Heyer and injuring 19 others — the political realm has been more divided than ever. Between people responding to Donald Trump's controversial remarks on the attacks and other rallies things have been heated, to say the least.
In a similar fashion to Lyft, other companies are doing away with political differences and working to promote unity and equality. Lyft's main competitor Uber permanently banned white supremacist James Allsup, while web host GoDaddy shut down domains for the white supremacist website called The Daily Stormer. Though the site tried to re-register with Google, The Daily Stormer met a similar fate with its new host. Airbnb also took similar actions, banning known white supremacists from using its services, according to BuzzFeed.
As these businesses work to promote equality, let's hope our country begins to see the changes it needs.