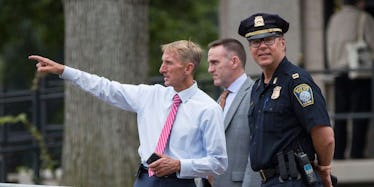 Thousands Are Marching At The "Boston Free Speech Rally," Days After Charlottesville
Scott Eisen / Getty Images
Those just getting caught up on the national news after a hectic week in the international circle might be wondering: What's happening in Boston? The city was preparing for an activist showdown of sorts, The Boston Globe reports, as a rally and protest planned in the Massachusetts capital were expected to draw thousands of people. The activity comes just a week after a white supremacist rally and protest in Charlottesville left one dead and several injured.
An estimated 15,000 people turned out to protest hate in Boston, Massachussetts on Saturday, Aug 19, according to ABC News. Protesters were speaking against a "free speech rally" which had been planned by a group of right-wing organizations since late July, NBC reports, and a counter-protest was planned by local BLM and ANSWER Coalition chapters shortly thereafter. The rally was scheduled to be held at Parkman Bandstand in a public park in Boston from 12 to 2 p.m., according to the Globe.
According to the Globe, some 20,000 people were expected to attend the counter-protest, and police forces geared up in anticipation. As of 1 p.m. ET on Friday, a Facebook event called "Fight Supremacy! Boston Counter-Protest & Resistance Rally," also planned for Saturday in Boston, had received 11,000 "going" responses from users and another 25,000 "interested." By contrast, the Facebook event for "The Second Boston Free Speech Rally" had just over 250 "going" responses.
Some of the rally's planned speakers backed out early, reports the Globe, but there were still plenty more notable alt-right figures scheduled to give remarks on Saturday, including Kyle Chapman and Joe Biggs.
A statement on the rally's Facebook event page read,
This Free Speech Movement is dedicated to peaceful rallies and are in no way affiliated with the Charlottesville rally on 8/12/17
ANSWER Coalition Boston organizer Kim Barzola, quoted in the NBC article, responded to the Boston Free Speech's assertion that it is not affiliated with white supremacy, neo-Nazism, or related hate groups:
We are seeing this kind of rebranding of what white supremacy is since Charlottesville, but we are not buying this at all.
Boston Mayor Marty Walsh in a statement urged people to stay away from Boston Common, the area where the rally is planned.
A similar free speech rally was held in Boston in May of this year, according to WBUR, and attracted a diverse crowd of alt-right supporters. One speaker at that rally, Augustus Invictus, encouraged followers to arm themselves for a civil war.
But despite the fears, the march seemed to be remaining peaceful on the day of.
Anti-hate counter-protesters vastly outnumbered the attendees of the original protest, and as of 1:30 p.m. ET on Saturday Aug. 19, the clashes that everyone had feared seemed to be remaining fears only.
Videos showed tense moments with police forming a physical barrier between demonstrators and counter-protesters, but clashes between the two groups were slow to materialize.
On the ground, CNN reporter Polo Sandoval told the network shortly after 1 p.m. ET that though he had seen tense moments between the crowds, he had also witnessed peaceful conversations, including one between a Donald Trump supporter and a Black Lives Matter representative. Other photos shared on social media supported the hopeful reports of dialogue.
After a troubling week, it's a relief to see things stay relatively calm. Let's all hope that this is the benchmark for future protests.