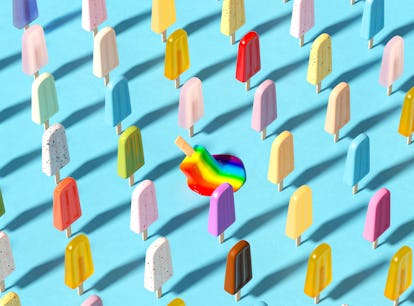 10 LGBTQ+-Owned Food Brands To Upgrade Your Snacking Game
These mouthwatering bites will leave you wanting more.
Andriy Onufriyenko/Moment/Getty Images
Get ready to mix up your snacking routine for Pride Month and beyond, because there are plenty of LGBTQ+-owned food brands to give you good reason to stray from your regular ol' 2 p.m. snack. What better way to lift up LGBTQ+-owned small businesses than by putting your money where your mouth is — and getting to enjoy some sweet and savory bites on top of it. To help get you started, check out these 10 LGBTQ+-owned food brands that'll satisfy your taste buds and give you a chance to support small businesses all across the country.
Pride Month isn't the only time when you should think about supporting LGBTQ+ spots, but it's as good a time as any to bring these businesses and their owners to the forefront. According to the National Gay & Lesbian Chamber of Commerce's 2016 report (the most recent numbers available) on America's LGBT Economy, out of 28 million U.S. small businesses, only 909 were certified LGBT Business Enterprises (LGBTBEs) as of October 2016. While LGBTQ+-owned businesses made up less than 1% of the U.S. small businesses in 2016, they still contributed more than $1.7 trillion to the U.S. economy.
Shopping small also puts money directly into the pockets of the communities that these companies call home. In a December 2019 press release about Small Business Saturday, the U.S Small Business Association's New York District Director Beth Goldberg noted that for every $100 spent at a small business, $48 of it is recirculated in the local economy, versus the $14 put back in the local economy if you spend your $100 at a national retailer.
It's always a good idea to support small businesses in your community when you can, but to get you started, check out some of these exciting small businesses from across the country. Here's everything to know about these crave-worthy companies and their mission to lift up LGBTQ+ voices and stories one bite (or sip) at a time.
We only include products that have been independently selected by Elite Daily's editorial team. However, we may receive a portion of sales if you purchase a product through a link in this article.