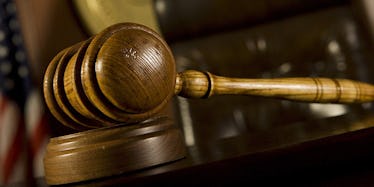 Why It's Too Late To Say Sorry For Supporting Brock Turner
West Coast Surfer/Mood Board/REX/Shutterstock
Brock Turner's supporters are backtracking.
On Wednesday, a former high school counselor of Turner's sent out an apology for issuing a character statement to Judge Aaron Persky that said her former student was "absolutely undeserving of the outcome."
In her apology, Kelly Owens wrote,
I am truly sorry for the additional pain my statement has caused. I tell my students they have to be accountable, and Brock is no exception.
The day before Owens' statement of regret, Leslie Rasmussen had a similar change of heart.
The 20-year-old band member and friend of the former Stanford swimmer issued an apology of her own on her Facebook page.
Her source of regret? A character reference in which discredited the victim's testimony.
I don't think it's fair to base the fate of the next 10+ years of his life on the decision of a girl who doesn't remember anything but the amount she drank to press charges against him. I think it is disgusting and I am so sick of hearing that these young men are monsters when really, you are throwing barely twenty-somethings into these camp-like university environments, supporting partying, and then your mind is blown when things get out of hand.
The backlash to Rasmussen not only saw her band, Good English, become the target of angry social media messages, but also resulted in cancelled shows. One venue that cancelled a Good English performance bluntly stated in a Facebook post "the support of rape culture is not tolerated."
Rasmussen decided to respond to the outrage.
I had no right to make any assumptions about the situation. Most importantly, I did not acknowledge strongly enough the severity of Brock's crime and the suffering and pain that his victim endured, and for that lack of acknowledgement, I am deeply sorry.
The fact that Rasmussen and Owens both supported Turner is no surprise. Friends do swear by friends, after all. And a disagreement with either of their character references is not just cause to judge or threaten them.
Still, regardless of the fact that both friends issued apologies, the sad truth is that the damage of their statements has already been done.
The language of the character references from both parties, especially Rasmussen, perpetuated a problematic culture of victim blaming. That culture incriminates those who are preyed upon and shows a lack of sorely needed sympathy for victims whose experiences can be so horrifying that they could become "terrified" of their own bodies, as Turner's victim wrote.
Feeding into that culture is not insignificant, either, especially when that lack of sympathy has proved problematic for institutions responsible for adequately responding to sexual assault cases.
Take Baylor University, for example. A culture of victim blaming was at the root of a sexual assault scandal that has seen many school employees lose their jobs left and right for the last two weeks.
Even more tangible, though, in terms of the damage of the character statements made in favor of Turner, is how it prompted Judge Aaron Perksy, a former Stanford athlete himself, to come to the decision that has now become so controversial.
Consider this Guardian report, and the many others like it, that stated that Perksy was swayed by Turner's lack of criminal record and the positive character references written in support of the defendant.
In this case, the effect that Turner's friends and others like them had on the criminal case is very much real and documented.
And if it's an honest moment of introspection for both friends that has led them to believe Turner should be held accountable — as their apologies insist — that same honest moment should lead them to another truth: It's too late to undo the damage of their statements.
Citations: Musician who defended Brock Turner feels backlash (CNN), Judge in Stanford sexual assault case faces recall effort over light sentence (Guardian)