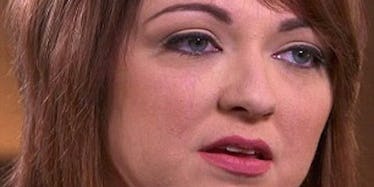 Woman 'Chained Like A Dog' Reveals Disturbing Things Killer Did To Her Daily
Dr. Phil
Kala Brown, the missing South Carolina woman who was "chained like a dog" inside of a metal shipping container in Spartanburg County for two months, is finally speaking out about her captor, Todd Kohlhepp.
Brown appeared on "Dr. Phil," where she revealed the disturbing things the alleged serial killer would do to her on a daily basis.
Kala Brown claims Kohlhepp raped her every day and threatened to kill her if she tried to hurt him or run away.
Brown said,
He told me as long as I served my purpose, I was safe.
This is the first time Brown has publicly shared details about the harrowing ordeal since she was rescued by detectives from Kohlhepp's Spartanburg County property on November 3, 2016.
Evidence found on the property has led authorities to believe Kohlhepp could be responsible for up to seven other killings that date back as long as 13 years ago.
Police allege Kohlhepp killed Kala Brown's boyfriend, Charlie Carver, as well as a couple that had been missing for nearly a year and four people that vanished from a motorcycle shop in 2003.
Brown revealed she and Carver had gone to Kohlhepp's 95-acre property to help the 45-year-old real estate agent clear some underbrush on August 31, 2016.
Brown, who worked for Kohlhepp at the time, said Kohlhepp insisted she only bring Carver to the property because "he didn't want anyone else knowing where he lived."
Upon arriving at the property, the couple followed Kohlhepp to a two-story garage, where Kohlhepp gave them hedge clippers and bottles of water. Brown claims Kohlhepp said he needed to get something from inside the garage, then returned a few minutes later with a gun and shot her boyfriend three times in the chest.
Brown said Kohlhepp gagged her, handcuffed her ankles and wrists, and took her to a "pitch black," 30-foot-long storage container. She said Kohlhepp then chained her up by the neck in the back of the storage container and sexually assaulted her.
During her "Dr. Phil" appearance, Brown recounted the terrifying experience, stating,
He let me know that if I tried to run, he'd kill me. If I tried to hurt him, he'd kill me. If I fought back, he would kill me. And then he raped me. He would rape me twice a day, every day.
Kohlhepp allegedly told Brown he killed her boyfriend because "it was easier to control someone if you took someone they loved."
Brown believes Kohlhepp spared her life because he was infatuated with her and even told her he would release her and give her money "if he ever got old and sick."
During her time in captivity, he would tell her she would eventually have Stockholm syndrome, a phenomenon in which a hostage feels sympathy for their captor,  saying, "it would kick in and we'd be happy together."
Brown recalled the morning she heard detectives talking outside of the metal container, stating,
I started screaming and hitting the walls. I knew my family would never stop looking, but he was so careful, I couldn't see how I could be found so soon. I was scared it really wasn't happening. And when they finally got the door open and I saw the police uniforms, I was relieved.
Kala Brown's missing boyfriend was found dead one day later on November 4, 2016.
Police uncovered the body of Charlie Carver in a shallow grave on Kohlhepp's rural property.
Kohlhepp was brought to the scene in handcuffs, where he pointed out the graves of the other missing couple to police.
Kohlhepp is currently facing kidnapping, murder and weapon charges.
Despite Brown's rape allegations, Kohlhepp has not been charged with sexual assault.
Authorities have declined to comment on the sexual assault allegations or the possibility of further charges against Kohlhepp.
Citations: 'He would rape me twice a day, every day': Survivor who was locked in a shipping container by a serial killer reveals details of the two month-long horror (Daily Mail)