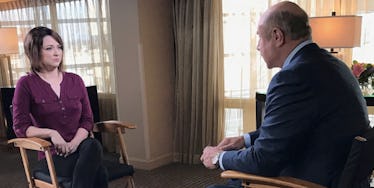 Woman 'Chained Like A Dog' By Serial Killer Reveals Detail That Gave Him Away
CBS Television Distribution
A woman who was allegedly kidnapped by a suspected serial killer has spoken out about the horrific ordeal she suffered through.
Kala Brown and her boyfriend, Charles Carver, had been missing for more than two months when police found Brown after searching Todd Kohlhepp's 100-acre home in Woodruff, South Carolina.
Authorities said the 30-year-old was "chained like a dog" inside a storage container when they rescued her.
In an exclusive interview with Dr. Phil, Brown sheds light on what happened, claiming she was raped by Kohlhepp, who is accused of seven murders. She added she watched him kill Carver.
Her boyfriend's body was found close to where she was chained, and he died of multiple gunshot wounds, police said.
Speaking to Dr. Phil, Brown relived the moment that signaled the start of their horrific ordeal.
She said,
He unlocked the gate and drove his vehicle through and we drove our vehicle through. He got back out of his car and locked the gate behind us. It didn't seem like a big deal then, but now thinking back, why did he lock the gate?
She added Kohlhepp forced her inside a pitch-black container that was only lit up when he entered with a flashlight:
He had a lot of shelving with dry food and rations and stuff, and lots of bottles of water. He left me bound and he also put a chain around my neck.
She said he restrained and gagged her, and added the chain was only about three feet in length, restricting her movement even further.
In a statement posted on Dr. Phil's website, Brown said,
No matter what he did to me, he did not break me. He cannot destroy me, and I won.
The interview airs in two parts on February 13 and 14.
Carver and Brown went missing on August 31, 2016, and Brown lived in the shopping container until her rescue on November 3.
Kohlhepp, 45, who was once Brown's boss, allegedly confessed to a number of murders when police discovered Brown on his property.
He is charged with killing four people at a Spartanburg County motorcycle shop in 2003, and three others at his home in 2015, including Carver.
Citations: The Girl in the Box: Kala Brown's Story of Abduction By A Suspected Serial Killer (Dr. Phil)