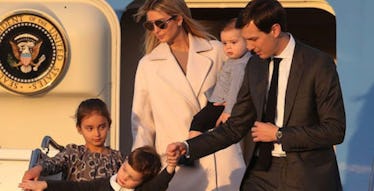 Ivanka Trump And Her Family Spent Fourth Of July Weekend In The Hamptons
Joe Raedle/Getty Images
Ivanka Trump is keeping her Fourth of July weekend plans relatively low-key.
According to The Hill, she and her husband Jared Kushner attended a party at Lally Weymouth's Southampton home alongside Kellyanne Conway, Democratic financier George Soros, Senator Chuck Schumer, and President Trump's longtime friend, Carl Icahn, among others.
Though the president's daughter and adviser didn't share photos of the gathering, Ivanka made sure to include family moments on Instagram throughout the weekend — presumably in the Hamptons, though no location is tagged.
Here we have her daughter Arabella relaxing in a comfy-looking hammock...
I'm not going to lie, this looks pretty fabulous.
...and frolicking in the garden.
Ivanka returned to politics with this photo taken in the White House.
Joy and Lydia are from Nigeria and will begin their semesters at Southeaster University this fall.
Both women visited DC and met Ivanka earlier this week.
Then she gave small tribute to America on its birthday.
"Happy Independence Day!" she wrote. "Grateful to those who fight for our freedoms and protect this great nation. #LetFreedomRing #FourthofJuly2017#July4"
Her father also wished everyone a happy Fourth of July.
Though the president acknowledged Independence Day to his followers, he is coming under fire for his tweets about North Korea launching a missile.
On the eve of America's Independence Day, North Korea claimed to have launched its first successful test of a long-range missile — which reached a height of 2,802 kilometers, 1,741 miles. This missile supposedly has the capability to "reach anywhere in the world," according to CNN.
The timing is especially important, CNN notes, not only as we celebrate our independence, but as the G20 summit plans to meet this week. This test also comes several days after President Trump spoke with Japanese and Chinese leaders about North Korea. The president and his advisers met today to discuss the situation.