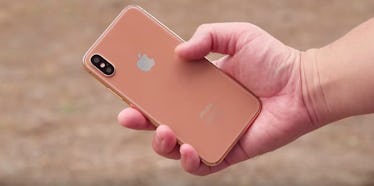 Does The iPhone 8 Come In Rose Gold? Here's The Lowdown
Technology lovers and Apple fans are swooning over the idea that the iPhone 8 has finally been announced today. The rumors can actually begin to settle down now that Apple's chief executive officer debuted the new device in Cupertino, California. OK, so now that that's over with, people are invested in wanting to know more about how they can rock the gadget as their own. Clearly, a ton of people are wondering, does iPhone 8 come in rose gold?
Sorry to break the bad news to all of you rose gold lovers out there, but sadly, with the new roll out of iPhones, we will have to bid a farewell to the favorite shade. With all great things comes sacrifice, and that incredibly adorable shade we've grown to love so much is going to have to be a distant memory if you plan on purchasing the iPhone 8. Despite the rumors early on in the game that we might be getting a new shade called "blush gold," we will have to be content with the truth, because the three colors the phone actually comes in are silver, gold, and space gray.
Hey, at least we got gold, so we can't be entirely heartbroken, right? Besides, we were simply waiting for the phone itself to make its highly-anticipated appearance, and for all of the rumors to stop toying with our brains. Take the gold, and run with it.
There are still cute phone case options aren't there? So, continue to do your happy dance in anticipation of getting your hands on one of these babies. There are still exciting features to be hyped about, like the wireless charging. Yes, you no longer have to dump everything out of your purse to locate that long white cord that always seems to tie everything and its mama in your bag. The new glass on the back of the iPhone 8 and iPhone 8 Plus is what permits the wireless charging. Say goodbye to that headache, and hello to the future.
Let's also not forget about the camera, because we need to know how efficient our picture game is about to get. The iPhone 8 Plus is going to have a cool feature called "portrait mode," which will make it a whole lot easier to adjust the lighting in your awesome shots. If you weren't already slaying, you have no choice to now.
So, when can you aspire to have one of these in hand? Pre-orders for the phones begin Sept. 15, and you can expect them to be in stores by Sept. 22. All of this sounds incredibly amazing, but anything that has a gold option is going to cost you major mula for sure. The starting price for the iPhone 8 is $699, while the price tag will be $799 for the 8 Plus. And get ready for your jaw to drop to the floor, because the lowest GB for iPhone X is $999.
It's OK if those prices scare you, because we are talking about a phone -- not a new car, yacht, or home. So yes, it is a little bit intimidating amidst all of the awesome features and upgrades this thing will provide. It's a new age, and technology is just one of those things that tugs at our heartstrings and continuously has us wondering, what's it going to do next?
Hopefully, all of this phone rambling distracted you from the idea that rose gold will be a thing of the past unless you're like Kate Winslet in Titanic and never let go. In all seriousness though, rose gold will be sorely missed, but by the time you get knee deep in this new gadget, it will genuinely be a thing of the past because you're on to bigger, better, and different-colored opportunities. Let's just hope the plain gold does the trick.