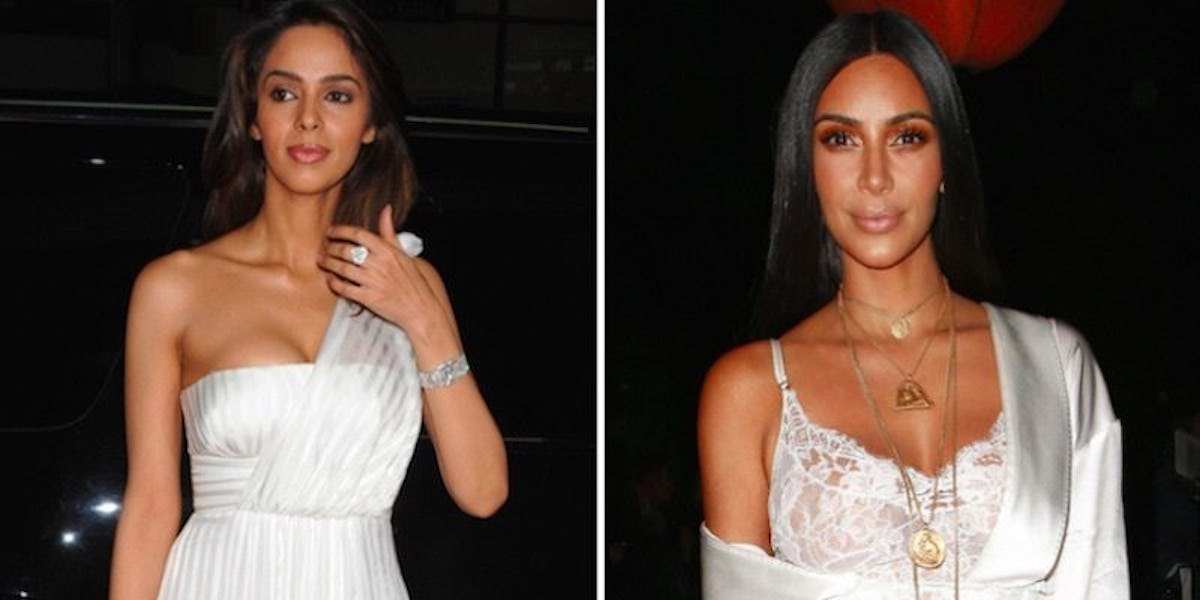 Intruders Beat Actress In Paris Apartment Eerily Near Where Kim K Was Robbed
REX/Shutterstock
Paris is often regarded as "the city of love."
But lately, it seems like Paris has become a location where celebrities are terrorized.
Not too long ago, Kim Kardashian became the victim of a terrifying robbery when five criminals broke into her hotel room at Hôtel de Pourtalès.
During the robbery, Kim Kardashian was held at gunpoint before the robbers raided the luxury flat and fled with millions of dollars worth of jewelry.
However, it turns out that Kim Kardashian isn't the only star who has been target by the criminals of Paris.
Reports have just surfaced that intruders beat actress Mallika Sherawat in her Paris apartment.
According to police, Bollywood actress Mallika Sherawat (also known as Reema Lamba) was tear gassed and assaulted by three masked intruders in her Paris apartment, the Daily Mail reports.
The apartment is located eerily close to where Kim K was robbed.
On November 11 around 9:30 pm, the 40-year-old arrived at her apartment building in the upmarket 16th arrondissement of Paris with her 45-year-old boyfriend Cyrille Auxenfans.
Le Parisien newspaper reports that the attackers covered their faces with scarves and "without saying a word, sprayed their victims with tear gas before punching them," according to Daily Mail.
The criminals then fled the scene of the crime as Sherawat and Auxenfans scrambled to call emergency services for help.
Sherawat and Auxenfans suffered minor injuries as a result of the traumatic attack.
A police spokesman stated, "A full investigation to find the assailants is underway," and authorities theorize that this attack could have been an attempted robbery.
However, reports confirm that no items were actually stolen by the assailants during this horrific attack.
In addition to being a well-known Bollywood movie star, Sherawat is also an advocate of women's rights and often speaks out about attacks carried out on women in India.
This brutal attack has shocked many people worldwide.
Paris is among the most popular destinations for tourism in the world, however, increasing crime and violent attacks like these can raise concerns about the safety of this city.
Citations: Bollywood star is tear-gassed and beaten up by masked intruders at Paris apartment close to where Kim Kardashian was robbed (Daily Mail), Le Parisien