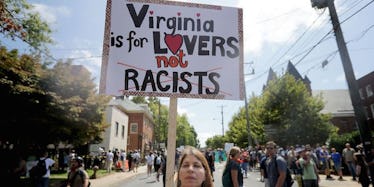 This Is How You Can Stand With Charlottesville, Even If You're Not There
Chip Somodevilla/Getty Images
In the wake of the Virginia city's deadly alt-right rally, people across the country are beginning to ask themselves, "How can I support Charlottesville?" On Saturday, Aug 12., things turned violent, culminating when a man plowed a car into a crowd of protesters, injuring more than a dozen people and killing a 32-year-old woman. As Americans try to make sense of this horrific tragedy, people are coming together, regardless of their location, to show support for the victims.
And if you want to get involved, there are ways to let your voice be heard. Have a look and see what options are available to you.
One way to start is by attending events that stand in solidarity with Charlottesville.
In the days after the violence, many towns and cities are holding their own rallies or candlelight vigils for those affected.
You can find a nearby location if you're looking to show white supremacists that their hate will not win. You can participate along with various groups, like Democracy for America, Working Families Party, and Resist Here, among others.
Another option is to contribute with GoFundMe donations.
Michael Patterson, a member of the Democratic Socialists of America, was one of the first to start a GoFundMe page to raise money for victims of the attacks. Patterson wrote, "Comrades were attacked by neo-Nazis yesterday in an act of terrorism in Charlottesville, Virginia. Please donate what you can to help cover the cost of their medical expenses, trauma counseling and support their needs." Patterson closed the paragraph with "Solidarity." The page had already raised more than $128,000 as of Sunday afternoon.
You can also donate directly to victims. 20-year-old Deandre Harris, whose beating by white supremacists wielding sticks in a parking garage was caught on camera, is raising money for medical expenses.
And a GoFundMe for Heather Heyer, the 32-year-old woman who lost her life, has been started by her friend and raised more than $175,000 as of Sunday afternoon.
You can also take a stand against racism with donations to organizations.
Organizations like Black Lives Matter of Charlottesville, the ACLU's Virginia Branch, and Charlottesville Solidarity Legal Fund are all working to counter racism in the area. And, of course, you can always contribute locally or nationally.
The president has spoken out about this terror event, but has come under fire for not denouncing it as such.
In a press conference, Trump refused to acknowledge the role of white supremacy in the violence or call the apparent attack by a car terrorism.
Even Ted Cruz and other members of the GOP were unsatisfied with the way Donald Trump handled the situation. People also turned toward Ivanka Trump for her response to the attacks. She, unlike her father, used the term "white supremacy" and "Neo-Nazi."
But it's those affected and their loved ones who will have to deal with the aftereffects. Our thoughts go out to the victims of this tragedy.