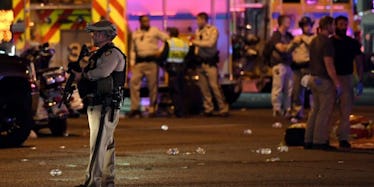 Here's How You Can Check In As Safe On Facebook In Las Vegas After The Tragic Shooting
Ethan Miller/Getty Images
On the evening of Sunday, Oct. 1, a gunman opened fire on concertgoers in Las Vegas, Nevada during a music festival. According to The New York Times, more than 50 people have been confirmed dead, and at least 400 more have been injured, making this horrific incident one of the deadliest mass shootings in recent history. The shooter, who has been identified as a Nevada local, was fatally shot by police, and as of now, this incident is not believed to be connected to international terrorism. Amidst the chaos and tragedy of the night's events, those who were there at the Route 91 Harvest Festival outside the Mandalay Bay Resort and Casino are looking to let their loved ones know they are safe. If you're wondering how to check in as safe on Facebook in Las Vegas, here's how you can do so.
UPDATE: Authorities confirm at least 58 people died and 515 were injured in the shooting. The shooter has been identified as a Nevada local, he was fatally shot, and this is not believed to be connected to terrorism.
EARLIER: Unfortunately, in this day and age, any one of us can find ourselves in a tragic, emergency situation such as this. But thanks to social media, we do have the ability to let our loved ones know, in real time, that we are safe and sound.
If you were in the area when the deadly shooting took place Sunday night in Las Vegas, you can use the Facebook app on your phone to quickly and easily let others know you are OK. Here's how it works:
If you have an iPhone, open up your Facebook app, and in the bottom right corner, tap the "Menu" icon, which is marked by the three horizontal lines (for Android users, the "Menu" icon should be located in the top right corner). Scroll down, and tap on "Crisis Response." According to Facebook's website, if enough people in a crisis area post on the app about the incident, the Safety Check feature will automatically be activated, and you'll be prompted to let others know that you are safe. You'll also be able to see which of your friends have checked in as "safe," and you can even invite others to use Safety Check as well.
The shooting in Las Vegas took place just after 10 p.m. local time as country singer Jason Aldean was performing at the Route 91 Harvest Festival. Videos taken from the scene of the shooting show Aldean fleeing the stage as the sounds of rapid gunfire permeated the venue. Soon after, hundreds of people began to panic and evacuate the scene. According to CNN, concertgoer Rachel De Kerf said she believed the gunshots lasted for 10 to 15 minutes in total.
Another witness at the concert described the terrifying scene in detail to NBC News:
Once I came out of the event, there were a lot of people just bleeding everywhere. It was just — didn't know where the blood was coming from, didn't know whose blood it was. There were people carrying people. There were people laying down. It was just, like, one man who was sitting next to me had a bullethole through his arm. And they just were like, 'We can't help you right now. That's not — we have other people to worry about. Please just wrap it up and please hold still until we can come get you.' And that was all they could do for that guy. I haven't seen him in hours.
It's chilling accounts such as these that remind us we can only do so much when tragedy strikes, which is why little things like checking in as "safe" on Facebook can make a bigger impact than you think. As details continue to flood in about this incident, all we can do is let others know we are safe, send positive vibes to those who need them most in this difficult time, and help others spread reliable information so we can all stay aware of what is happening and help as much as we possibly can.