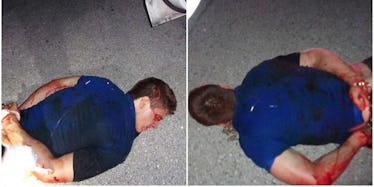 Harrowing Pics Show Blood-Soaked FSU 'Cannibal' After He Ate A Man's Face
Martin County Attorney's Office
Police have released harrowing photos of the FSU frat brother moments after he allegedly ate a man's face.
Austin Harrouff, 19, is accused of killing John Stevens, 59, and his wife Michelle Mishcon, 53, outside their home in Jupiter, Florida.
Authorities said he displayed abnormal strength when four officers and a police dog wrestled him off the victims' driveway on August 15.
Police originally speculated Harrouff was high on flakka, but a toxicology report released on Wednesday revealed he only had a small trace of cannabis in his system at the time of the attack.
The shocking pictures show Harrouff lying on the ground covered in blood. He is handcuffed.
Another shows a stained knife covered in hair.
More intrusive photos show the suspect strapped into a bed as medics carry him away.
He was originally arrested and charged with second-degree murder.
But earlier this month, the Sun Sentinel reported Assistant State Attorney Nita Denton said the charge had been upgraded to first-degree murder.
It is reported Stevens' son is pushing for the death penalty.
On the night of the attack, Harrouff left a family meal and walked three miles where he stumbled upon the couple outside their home.
He leapt on them in their garage. A neighbor who tried to intervene was also injured.
The attack is believed to be completely random.
Harrouff was in a coma for 11 days before he awoke. He is reported to be giving his first interview to Dr. Phil in the coming weeks.
What exactly is flakka?
It's a man-made drug created primarily from a chemical called alpha-PVP.
This is a synthetic version of cathinone, the stimulant made from the plants Somalians eat in the movie "Captain Phillips."
The sensation and long-term effects it causes are said to be comparable to high-grade crystal meth or cocaine, with the addition of kidney failure.
The crystal pebbles that make up flakka can be snorted, injected, smoked or ingested.
Some of the first reported cases of flakka use emerged more than a year ago in Florida.