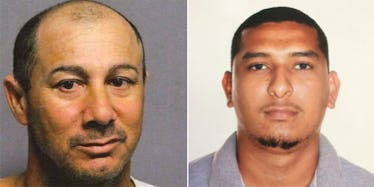 Guy Kills His Ex-Girlfriend's Male Roommate Just Because He Was Jealous
Kenner Police Department
A Louisiana man has been accused of murdering and cutting up the body of a 27-year-old Ivis Alexis Portales-Lara, who was living in an apartment with the man's ex-girlfriend at the time.
The violent attack by Viusqui Perez-Espinosa was confirmed after uncovering different traces of blood (which had been cleaned up) around the crime scene and a struggle, as reported by the NY Post.
According to the police, the 44-year-old likely acted out of jealousy.
Perez-Espinosa alone will be booked on charges of second-degree murder and obstruction of justice, as police believe he acted alone and without influence from the woman who leased the apartment.
The search for Portales-Lara did not begin until mid-November, when his family reported him missing after they noticed he was absent from church, plans with friends and picking up his own child for visitation.
Portales-Lara, a refinery worker alongside Perez-Espinosa, was not only living with the suspected killer's ex, but he was also romantically involved with her, according to a news release.
After Perez-Espinosa was evicted from his previous apartment and moved in with his ex and Portales-Lara (because living with your former flame and her current lover is always a good idea), things apparently escalated quickly.
After entering the apartment, police discovered the remnants of what was clearly a vicious murder.
"Detectives began noticing what appeared to be a red blood like substance on the floor," the news release said.
"They saw droplets on the floor," said Kenner Police Department Spokesman Lt. Brian McGregor. "From then they had to use an ultraviolet light source to find things that had been cleaned up."
Over the past few weeks, police have gathered pieces of the victim's body from around surrounding parts of Kenner, Louisiana, after a fisherman initially discovered a severed arm several miles west of Kenner.
This whole roommate scenario seemed doomed from the get-go. I'm not exactly sure why the pair agreed to let Perez-Espinosa back into their living situation, but by the sounds of it, he was more insecure than anything else.
Jealousy is a pretty common emotion to feel, but if it triggers a desire to kill someone... well, that's never a good thing.
Citations: 'Jealous' man accused of killing ex-girlfriend's male roommate (NY Post), ARREST MADE IN MURDER / DISMEMBERMENT (The Kenner Police Department)