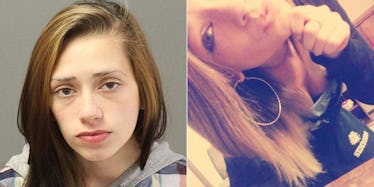 Girl Who Threw Baby Out Window Sent Disturbing Texts To BF Moments After
Facebook
A teenage girl who killed her newborn baby by throwing the infant out of her bedroom window sent a chilling text to her boyfriend after.
In a series of messages, Antonia Lopez wrote, "It was a girl by the way."
The 16-year-old from Omaha, Nebraska, later added, "Babe we can try again if you still want to be with me."
Lopez was originally charged as an adult in her child's death before being moved to the juvenile court, the Omaha World Herald reported.
Being tried in district court could have led to a 20-year jail sentence for Lopez, but instead the teen has avoided prison.
Douglas County Attorney Don Kleine said,
It's a horrible case — terrible. To me, after we looked into it, the way things happened, it didn't seem to be anything you would label as an adult-specific act. It wasn't a planned-out, thought-out process. It was more of a panicked reaction.
Lopez denied knowing she was pregnant before giving birth to the baby, born two months premature, in her bedroom on September 30, 2016.
However, messages on Snapchat suggest she did know she was expecting a child.
Text transcripts revealed in court also showed three messages sent by Lopez to her boyfriend, apparently before the birth. She wrote,
Babe I'm having contractions in my lower abs every couple seconds. It hurts so much. I am in so much pain. I want it to stop.
She threw the newborn out the window, causing skull, brain, spine and abdomen injuries before the baby died, before seeking help to dispose of the body on Facebook.
Afterward, she reportedly texted her boyfriend again to say, "Babe I had a miscarriage."
Her mom found the body in the grass below and called 911.
The juvenile court ordered Lopez to continue school and receive medical and psychiatric care while she remains in foster care.
She could be placed on probation or sent to a detention center until she is 19.
Citations: Omaha teen admits to throwing newborn out window, killing the baby (Omaha World Record)