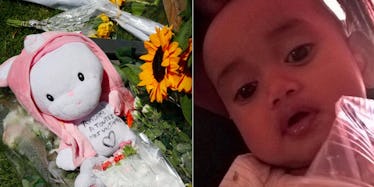 Facebook Helped This Mom Find Her Missing Baby After The Nice Attack
REUTERS/Facebook
Facebook has reunited a mother and her baby who went missing in the chaotic aftermath of the Bastille Day Nice terror attack.
Tiava Banner, a friend of the unknown mother, feared for the 8-month-old's life and posted a desperate appeal online in a bid to find him.
She went on Facebook last night and wrote in French, "We have lost BB 8 months. Nice friends if you've seen him if you were there if you have collected please contact me!!!!!"Facebook Helped This Mom Find Her Baby After The Nice Attack
The post was shared thousands of times.
It turns out the boy was taken home by a young woman. She checked Facebook when she got back, found the appeal and contacted Banner.
Banner thanked the woman and everyone involved in a follow-up post.
Twitter is flooded with people desperately trying to find family and loved ones in the aftermath of the Bastille Day Nice terror attack.
Relatives and friends are using #RechercheNice, #NiceAttentat and #Nice06 to share pictures of missing people.
At least 84 people — including 10 children — were killed when a truck careered through the Promenade des Anglais in Nice.
A father and son from Texas have been named as two of the victims.
The family of Sean Copeland, 51, and Brodie, 11, said in a statement,
We are heartbroken and in shock over the loss of Brodie Copeland, an amazing son and brother who lit up our lives, and Sean Copeland, a wonderful husband and father. They are so loved.