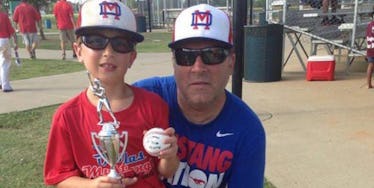 American Father And Son Named As Victims In Nice Bastille Day Terror Attack
Facebook
A father and son from Texas have been named as two of the 84 victims in the Nice terror attack.
Sean Copeland, 51, and Brodie, 11, were killed when a truck mowed down a crowd celebrating Bastille Day on Thursday night.
The family said in a statement to NBC,
We are heartbroken and in shock over the loss of Brodie Copeland, an amazing son and brother who lit up our lives, and Sean Copeland, a wonderful husband and father. They are so loved.
Tributes are pouring in for the father and son.
Hill Country Baseball club posted a picture of Brodie on its Facebook page and wrote,
Nobody deserves this type of fate, especially not such a wonderful family. You are in our hearts, thoughts, and prayers. Rest in peace, Brodie and Sean, you will be remembered by many.
The truck slammed into a crowd and drove on for around 1.2 miles before the driver was shot dead by police. Witnesses say the truck was zig-zagging in an attempt to hit more people.
When police searched the vehicle, they found grenades and guns.
French President Francois Hollande confirmed the Nice attack to be "undeniably of a terrorist nature" on Thursday night.
President Obama condemned the attacks in a statement put out by the White House. He said,
Our thoughts and prayers are with the families and loved ones of those killed, and we wish a full recovery for the many wounded. I have directed my team to be in touch with French officials, and we have offered any assistance that they may need to investigate this attack and bring those responsible to justice. We stand in solidarity and partnership with France, our oldest ally, as they respond to and recover from this attack.
"On this Bastille Day, we are reminded of the extraordinary resilience and democratic values that have made France an inspiration to the entire world," he said.