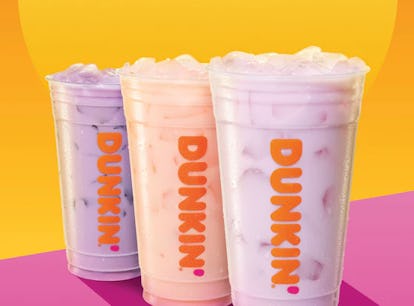 Here's How Dunkin's Coconut Refresher & Starbucks' Pink Drink Compare
Your pick might depend on how much you want to spend.
Courtesy of Dunkin'
Summertime calls for plenty of cool, refreshing beverages. Although an icy cold brew from Dunkin' or Starbucks is probably one of your go-to picks, sometimes you aren't in the mood for coffee-based sips. Enter smooth, iced coconut milk refreshers, which blend fruity, tropical vibes with caffeine. There are similar options at Starbucks and Dunkin, so if you're unsure which drink you want to choose, you may want to know how Dunkin's Coconut Refresher versus Starbucks' Pink Drink compares with ingredients caffeine, price, and flavor.
While Starbucks' Pink Drink has been around since 2017 — and before that, as a secret menu recipe — Dunkin's Coconut Refresher made its debut in late April 2021. The different offerings have quite a few things in common, firstly, Coconut Refreshers and the Pink Drink come in totally Instagram-worthy colors. The odds are you're not drinking a beverage based on its appearance, but it does liven up your feed, which is always fun. The second most obvious thing in common is the use of non-dairy coconut milk. Lastly, they all contain some caffeine to give you a boost. However, the surface-value similarities aren't enough to make your decision between the sips.
If you're on the fence about which drink to get on your next coffee shop run, here's how Dunkin's Coconut Refresher and Starbucks' Pink Drink compare.
While there aren't too many differences between Dunkin's Coconut Refresher and Starbucks' Pink Drink, knowing where they're similar and where they're different can help you choose based on your preferences.