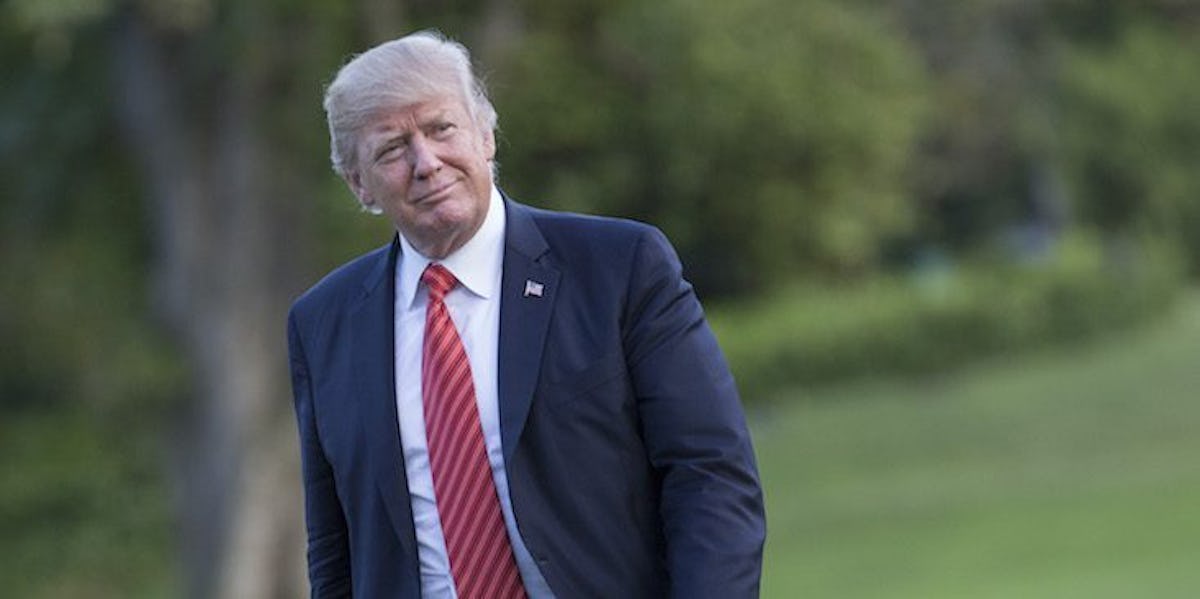 Donald Trump's New Travel Ban Added Venezuela, And Here's What's Going On
Chris Kleponis-Pool/Getty Images
On Sept. 24, Donald Trump revised his travel ban, tacking on three new countries – two of which are not Muslim-majority nations. Venezuela and North Korea were both included the ban, which makes for a bit of a head-scratcher. Trump's previous executive order appeared to directly and exclusively restrict travel from majority Muslim countries into the United States, so why is Venezuela on Trump's travel ban?
The president's first controversial attempt at enforcing travel restrictions occurred on Jan. 27, when he issued an executive order banning the entry of citizens from Syria, Iraq, Iran, Libya, Sudan, Somalia, and Yemen for 90 days. Multiple courts shut down his order – which many dubbed a "Muslim ban" – and Trump was forced to regroup and revise.
The president then released a second version of the travel ban in March, this time removing Iraq from the list but, once again, the order hit a wall of legal trouble.
Now, Trump has come back with a third alternative, which restricts travel from Chad, Iran, Libya, North Korea, Somalia, Syria, Venezuela, and Yemen. The specifics of restrictions vary from country to country, and the order is set to roll out next month. In a statement released by The White House on Sept. 24, Trump claimed that the ban sought to "protect the security and interests of the United States and its people."
That same day he tweeted out a similar sentiment, once again emphasizing the importance of security and his belief that the countries on the list serve as some sort of threat to the United States.
However, when it comes to Venezuela, it's less an issue of safety, and more of a slap on the wrist.
Venezuelan citizens will still be allowed to travel to the United States, but certain government officials and their families will not.
"Venezuela's government fails to share public-safety and terrorism-related information adequately," the president's statement explained. "... as a result, the restrictions imposed by this proclamation focus on government officials of Venezuela who are responsible for the identified inadequacies."
Trump has already spoken out multiple times against Venezuela's government, accusing Venezuelan leader Nicolas Maduro of being a "dictator" for subverting democratic practices and violating human rights. He has a point. Maduro held a vote in July to rewrite Venezuela's constitution to give him more authority. It passed – though there were many, many allegations that the votes were fraudulent. As of August, Maduro's approval rating hovered at a ridiculous low of 17%, according to USA Today.
Venezuela has been dealing with a national crisis as a result of crashing oil prices and price control since 2012. Citizens face food shortages, violent crime, unemployment, and shortages of critical medical supplies. Meanwhile, the country's government continues to restrict outside humanitarian aid. Tens of thousands of Venezuelans have already been forced to flee their homes, according to ABC News.
The president has publicly toyed with the idea of a U.S. intervention, telling a group of reporters on Aug. 11,
We have many options for Venezuela, including a possible military option, if necessary. We don't talk about it. But a military operation, a military option, is certainly something we could pursue.
Trump has already slapped sanctions on Venezuela, including an executive order on Aug. 25, prohibiting the trading of new debt between the government and the oil company Petroleos de Venezuela SA. White House press secretary Sarah Huckabee Sanders explained,
These measures are carefully calibrated to deny the Maduro dictatorship a critical source of financing to maintain its illegitimate rule, protect the United States financial system from complicity in Venezuela's corruption and in the impoverishment of the Venezuelan people, and allow for humanitarian assistance.
Maduro is accusing Trump of attempting to make life more difficult for Venezuelans. According to Bloomberg, he said that the president's sanctions and upcoming travel ban will "make Venezuelan people suffer and to force an undemocratic change in government."
Venezuelan Foreign Minister Jorge Arreaza also slammed the travel ban, telling the United Nation's General Assembly on Sept. 25 that Venezuela is being "threatened directly by the president of the United States" and calling the U.S. a  "major human rights violator."
Meanwhile, North Korea is getting a similar slap on the wrist by landing on the travel ban list. Only in this case, it seems to be more of a personal target courtesy of Trump himself. Both the president and Kim Jong-un have been engaging in a war of words, threats and endless aggression (while upping everyone's anxiety by 1,000%). It appears that adding North Korea to the ban's list is just one more step in their pissing competition.
The ban for Venezuela and North Korea is scheduled to go into effect on Oct. 18. Check out the entire Gen Why series and other videos on Facebook and the Bustle app across Apple TV, Roku, and Amazon Fire TV.