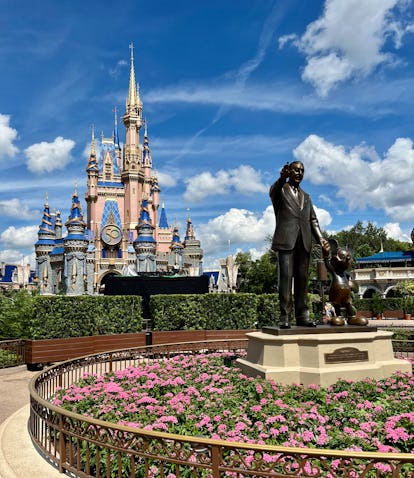 Every Disney World 50th Anniversary Exclusive You Don't Want To Miss
You'll want all four of the limited-edition Starbucks tumblers!
Courtesy of Collette Reitz
With Disney World's 50th anniversary celebration underway, you might be wondering what will be different about your trip if you head to the parks during the 18-month long fest. There's a lot to see, and you'll want to take in as much as possible while you're there to soak in all the enchantment. The Orlando, Florida-based theme park is already known as the most magical place on earth, and these Disney World 50th Anniversary park exclusives will help you see why the company has dubbed its golden anniversary as the "world's most magical celebration."
Walt Disney World's anniversary celebration officially kicked off on Oct. 1, 2021 — which was 50 years to the day when the park opened in 1971. The excitement will be felt during every second of your stay as it spans across all four theme parks will include new nighttime spectaculars, special merch, and limited-time food items. If you can believe it, that's just the beginning: There's so much to see during the 50th celebration that you won't see at any other time. Thankfully, the anniversary festivities will last a full 18 months, so there's no need to rush off to Florida right away.
From the little details to the big ones, here are all the things you'll want to know about Disney's 50th celebration:
With so much to see and do at Disney World's 50th anniversary celebration, you'll want to book your trip ASAP.
The CDC recommends traveling only after you're fully vaccinated and your vaccine has become fully effective. If you're not fully vaccinated and must travel, check the CDC guidelines before you book. Check your destination's vaccination and testing requirements before you depart.