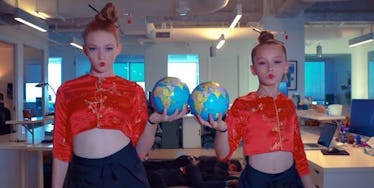 Dancing 'Twins' Bust Out Some Sick Moves To Beyoncé's 'Run The World' (Video)
These dancing "fraternal twins" are running sh*t.
Taylor Hatala, 11, and Larsen Thompson, 14, paired up to make their own music video to Beyoncé's "Run the World (Girls)," and it's absolutely amazing.
The lookalikes -- who aren't actually twins or even sisters -- have more swag and talent than most grown women.
This video is what I would watch to pump me up before I executed my complex plan to take over the world.
Not only does the duo have other incredible music videos, but Taylor also appeared on "The Ellen DeGeneres Show" twice, dancing to "Anaconda" and "Shake It Off."
After you watch this video, you can check out Taylor's YouTube channel to see more awesome videos of her dancing.