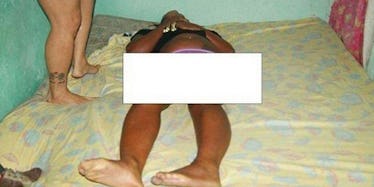 Married Dad Dies From Erection After Taking 'Manpower' Drug To Impress Mistress
Daily Mail
A father has died from "consistent hardness" after taking a sex performance enhancement drug for his mistress and maintaining an erection for too long.
The married man, identified only as Samson, died in a hotel room in Delta State, Nigeria, reports local news website punchng.com.
He is believed to have taken a drug known as Manpower, which can be bought over the counter. Its effects are similar to that of Viagra.
His death followed a long period of sex.
Samson was reportedly boasting about his new-found love affair to people in a bar in the led up to the incident.
Sources told the news website he had planned to take the drug to impress his mistress, whom he had been seeing for around three months.
One source said he could not ejaculate and died from stress.
After having intercourse for a long time, he could not ejaculate and must have died from the stress of the consistent hardness. He was overpowered by the drug and it was the first time he took such a drug.
Samson, believed to be in his thirties, had planned to go to the grand opening of a new bar when he visited the woman at a nearby hotel.
His body was taken to Central Hospital Warri.
The incident has not been reported to the police, added the news website.
Earlier this week, a house cleaner was cleared of attempted murder after her 89-year-old client popped a Viagra and pestered her for sex.
Gillian Lavery struck Tom Winter over the head with a hammer after his advances became aggressive at his home in Clydebank, Scotland.
The court heard how Winter would be visited by women up to three times a week.
On the day of the attack, he had expected a visit from a mystery woman but became angry when she did not show.
Citations: http://punchng.com/man-dies-delta-hotel-taking-sex-drug/ (punchng.com)