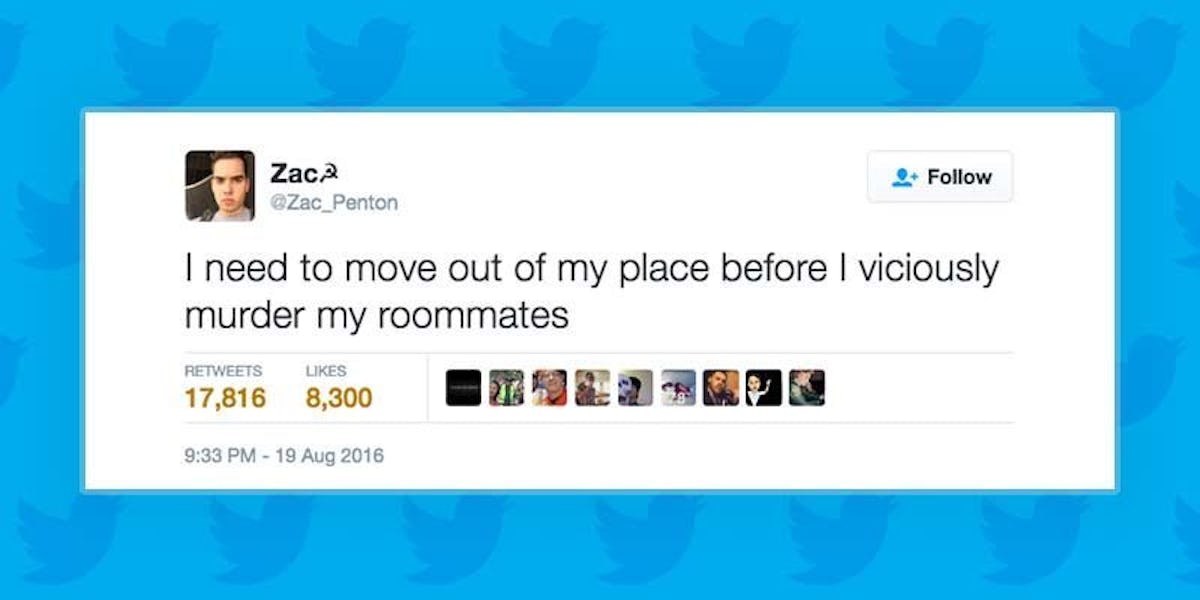 Chilling Tweets Seem To Reveal 21-Year-Old's Plan To Murder His Roommate
There are plenty of Twitter accounts out there just like Zachary Penton's account.
The 21-year-old spent months tweeting about Frank Ocean's new album and celebrated when it came out. He tweeted Drake lyrics and about PARTYNEXTDOOR's new album.
He tweeted about going to the gym, and he tweeted about his frustration with women not flocking to him and instead behaving like individuals with their own wills and agency.
He liked working out and, according to his Twitter, shooting guns.
In fact, Penton tweeted quite a bit about how much he liked guns.
On June 3, he tweeted about buying a gun.
In fact, buying a gun is very easy -- a fact which politicians and advocates are trying to change.
A few days after he tweeted about buying a gun, Penton asked if anyone wanted to go shooting with him.
Anyone wanna shoot a bit today? — Zac☭ (@Zac_Penton) June 9, 2016
He made that same request again a few months later on August 12.
When one follower responded, Penton clarified he meant "shoot" guns, not shoot basketballs or something like that.
@Zac_Penton oh I thought you meant shootin in the gym — Groovy Figg™ (@Figgnorance) August 12, 2016
Then, on August 16, he tweeted he needed ammunition.
On August 19, he tweeted this:
Then, he sent another objectifying tweet about a woman.
And then, he expanded on his roommates.
Two days later, Penton viciously murdered one of his roommates.
That's right. After tweeting about guns and wanting to viciously murder his roommates, Penton shot and killed his roommate.
According to ABC15, Penton killed Daniel Garofalo, 41, at a home in Gilbert, Arizona.
Apparently, the roommates were having a fight, which led to Penton shooting and killing Garofalo. Penton called the police and told them he had shot his roommate.
Garofalo was dead when police arrived at the scene, and Penton was taken into custody.
Shooters with histories of domestic violence and feelings of frustration with women are fairly common.
Shooters with legal, easy access to guns in America are also fairly common. As Penton said, two months before murdering a human he lived with, it's "so easy" to buy a gun.
Seems like that worked out well for everyone.
Citations: Why You Should Follow Your Roommate on Social Media (Hint: Murder) (Gizmodo), Gilbert police: 21-year-old Zachary Penton arrested for shooting and killing roommate after a fight (ABC15), What Mass Killers Really Have in Common (The Cut)