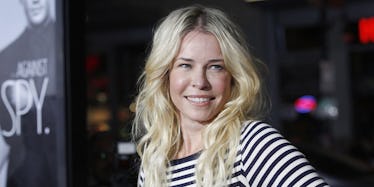 Chelsea Handler Drops Massive Truth Bomb About 2 Abortions She Had As A Teen
REUTERS/Mario Anzuoni
Chelsea Handler has dropped a massive truth bomb by revealing she had two abortions in the same year at the age of 16.
The now 41-year-old says she "fucked up twice" in a tell-all piece for Playboy.
She reveals, "When I got pregnant at the age of 16, getting an abortion wasn't the first idea that popped into my unripened brain."
Chelsea says she was going through a "very bad stage" in her life. She "hated" her parents and was having unprotected sex with someone she should never have been with.
When the news came, she initially thought about keeping the baby.
She wrote,
Maybe I'll have twins and give them rhyming names! Of course, the idea that I would have a child and raise it by myself at that age, when I couldn't even find my way home at night, was ridiculous. My parents recognized that, so they acted like parents for one of the very first times in my life and took me to Planned Parenthood. I felt parented, ironically, while I was getting an abortion. And when it was over, I was relieved in every possible way.
Chelsea goes on to explain that she got pregnant with the same guy again later that year. She ended up having to scrape together $230 and says the whole thing was "irresponsible."
But Chelsea has no regrets about her decision.
She signs off the essay with,
We have 7.3 billion people on this planet. Anybody who carefully decides not to become a parent — let alone a bad parent, which is what I would have become — should be applauded for making a smart and sustainable decision.
The revelations came as the Supreme Court announced its decision in Whole Woman's Health v. Hellerstedt, the biggest case surrounding abortion in decades.
The Supreme Court ruled the law that closed down more than half of Texas's abortion clinics unconstitutional, and the law will no longer stand.
This is a major win for pro-choice advocates as it takes away states' abilities to restrict women's access to abortions.
Citations: Chelsea Handler Had Two Abortions When She Was 16: 'I Happened to F--k Up Twice' (Us Weekly), My Choice (Playboy)