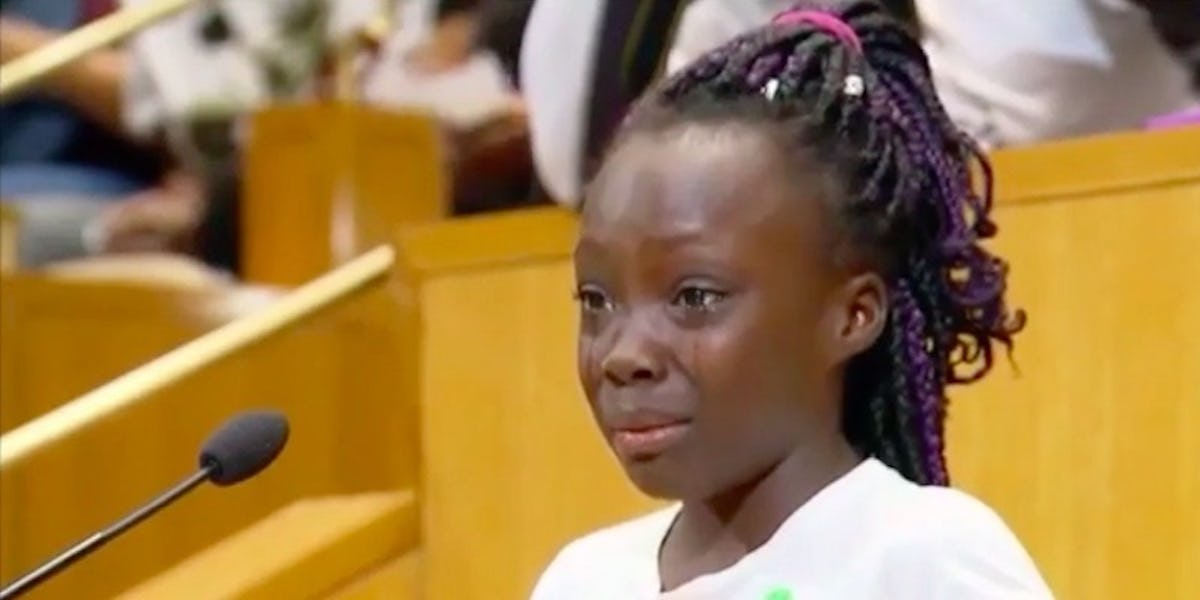 Everyone's Hurting Over This Brave Little Girl's Speech On Police Brutality
YouTube
Emotions are running rampant in Charlotte after the killing of Keith Scott last week, and residents are continuing to express their strong feelings about police brutality.
Zianna Oliphant, a young Charlotte resident, voiced her opinion on Monday at the first city council meeting following the protests over Keith Scott's death.
Needless to say, her speech was absolutely heart-wrenching.
Oliphant stood at the podium at Charlotte's city hall with a trembling voice and tears streaming down her face. She appeared to be distraught and completely astonished at the way the black community has been treated lately.
To begin, she made it clear to her audience she has never felt this way about her hometown before. She said,
I've been born and raised in Charlotte, and I've never felt this way 'til now... and I can't stand how we're treated.
As she pauses, she cries more (and so do I). The air is tense, and her passion for the topic is apparent. She continues, saying,
It's a shame that our fathers and mothers are killed and we can't see them anymore... It's a shame that we have to go to their graveyard and bury them. And we have tears, and we shouldn't have tears. We need our fathers and mothers to be by our side.
Her message was loud and clear: There needs to be change.
Although protesters in Charlotte have expressed their opinions toward unjust police brutality through both violent and peaceful ways, no one has moved us like Zianna Oliphant has.
After her speech, the room gave Zianna's courageous words a standing ovation.
According to CNN, the crowd was understandably upset with the way Mayor Jennifer Roberts and the city's police department handled Scott's death.
In fact, they were so upset they didn't stand for the Pledge of Allegiance -- but they did stand up for  Zianna, which made their point loud and clear.
Citations: CNN