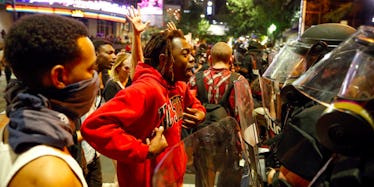 Protests Become More Violent In Charlotte With One Person Reportedly Shot
REUTERS
There are now reports saying that one civilian is in critical condition and several are injured at the protests that are taking place in Charlotte, NC after the killing of Keith Scott.
Scott was a father of seven and was reading a book when he was shot and killed by Charlotte PD on Tuesday. Police were looking for another man who they had a warrant for.
On Wednesday night, protests have continued and become violent again.
Reports stated that a person was rushed to the hospital after they were shot in the head with life threatening injuries, just outside the Omni Hotel in downtown Charlotte.
To disperse the crowd, police have started to throw tear gas.
The person who was injured on Wednesday night was shot by another civilian, according to the city of Charlotte's official Twitter account. He is currently on life support and not, as was originally reported, deceased.
Mayor Jennifer Roberts told CNN by phone that she is asking the demonstrators to listen to Keith Scott's family and the NAACP to remain peaceful. She said,
Go home and tell everyone violence is not the answer. The investigation is ongoing, it will be transparent.
This is the second night of protests after the officer-involved shooting of Scott. Police fired tear gas while demonstrators threw objects at the police.
According to Brad Panovich, the Chief Meterologist at NBC TV affiliate in Charlotte, North Carolina, police were threatening protesters with arrest.
While the protests continues, many media outlets continue to document how protesters are being treated by the police.
As of Wednesday night, police continue to try to subdue protesters by firing more tear gas into the crowd.
This is just another look into America's continued crisis of racism and police brutality.
The protests began peacefully, but Chief Putney said that when it started to become more violent, "officers were compelled to respond more aggressively."
Citations: Reports: One Shot, Several Injured As Protests In Charlotte Turn Violent [Updating] (Deadspin)