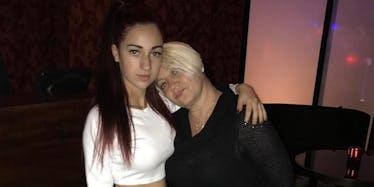 'Cash Me Outside' Girl's Mom Is Getting Sued After Crazy Pizzeria Beatdown
Instagram
Will Danielle Bregoli ever be able to shake her bad girl ways?!
The pessimist in me wants to say of course not. The optimist in me wants to say I hope so. If not, she may end up losing all of that hard-earned CASH way too fast.
The latest development in the crazy life of the infamous "Cash Me Outside" girl is all the proof you'll ever need.
Just a week after a video of Barbara Bregoli fighting her daughter surfaced on the web, a Florida woman is now suing Danielle's mom after the woman said she was beaten up during a fight with the 13-year-old and her crew.
According to the New York Daily News, 27-year-old Kimberly Peterson alleges she got into an altercation with Danielle and her friends after she noticed them being "rowdy" in front of the pizzeria.
Peterson then reportedly told Bregoli to go home to her parents. The lawsuit complaint states she was then "assaulted and repeatedly battered and punched" by Bregoli and her squad.
The report states a food fight also broke out as a result of the fight.
Interestingly enough, Kimberly Peterson's lawsuit directly targets Barbara Bregoli and not Danielle herself. The woman's attorney Gary Lesser released a statement on the suit, saying,
It's hard being a parent today, we all know this, but we still have to be parents, not buddies, and certainly not business partners.
Judging by that sentence, it seems people out there believe Barbara Bregoli is letting her daughter get away with her poor life choices in order to rake in a whole lot of "cash" since her infamous Dr. Phil interview.
As for Danielle, she took to Instagram shortly after news broke about the lawsuit, saying,
Everyone want to point the finger at me. SMH.
Whether the allegations against her are true or not, Kimberly Peterson is not the only person who wants to catch Danielle's mom in court.
Ira Peskowitz, Danielle's biological father, is hoping to obtain custody of her and steer her in the right direction.
She's crying out for help. She's doing these things for attention, and she's not getting attention from the right people.
We'll just have to wait and see where this goes.
As of right now, the viral sensation known as the "Cash Me Outside" girl is on pace to earn more than $1 million in 2017 -- NO JOKE.
Is that why "everyone" wants to "point the finger" at her? Time will tell.
Citations: Lake Worth woman files lawsuit against 'Cash me outside' girl's mother, Barbara Ann, following February pizza joint beatdown (NY Daily News)