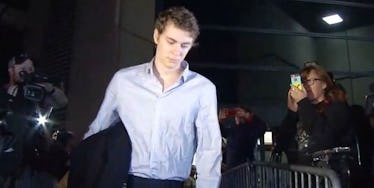 11 Things That Lasted Longer Than Convicted Rapist Brock Turner's Jail Time
Daily Mail
Convicted rapist Brock Turner was released from jail on Friday morning.
Turner was given a six-month sentence in jail for sexually assaulting a young woman.
He was released from jail after just about three months.
The woman Turner assaulted wrote him a passionate letter that went viral, detailing how the assault affected her life.
Turner's maximum possible jail sentence was 14 years, but he was only given six months. On top of that, he only had to serve three months.
For context, here are a few things longer than Turner's jail time for sexual assault:
A school semester.
Turner has continually been referred to as "former Stanford student" rather than "convicted assailant." You can almost understand where this confusion is coming from, given a single semester of college is longer than his time in jail.
Any professional sports season.
Turner has also been referred to as "swimmer" rather than "convicted assailant." Again, the confusion is nearly understandable, because a sports season is longer than Turner's time in jail.
Sentences for weed possession.
The federal mandatory minimum sentence for possession of any amount of weed is one year, according to NORML. And sentences have been much longer, especially for people of color.
The amount of time a teen was held in jail without trial for stealing a backpack.
Kalief Browder, then 16, was accused of stealing a backpack and sent to the jail at Rikers Island in New York. He was kept there for three years awaiting a trial. He spent much of that time in solitary confinement. Eventually, the charges were dropped.
Browder committed suicide last June.
Martha Stewart's jail time.
Stewart spent five months in jail for lying to federal investigators about stocks.
We're currently about 16.5 months into this presidential election and we've still got two more to go.
The wait to see what would happen to Jim and Pam on "The Office."
Jim and Pam first kissed in the season 2 finale of "The Office," which aired on May 11, 2006. We didn't find out what happened until season 3 started on September 21, 2006. That was four months.
Kanye West's self-imposed exile for the 2009 VMAs.
After interrupting Taylor Swift at the VMAs, Kanye locked himself up in Hawaii, where he worked on "My Beautiful Dark Twisted Fantasy."
The most thorough description of that time we have is from Complex writer Noah Callahan-Bever. He wrote that he heard from Kanye in October 2009 and then not again until mid-January 2010. That was three months.
Callahan-Bever then spent six months in Hawaii while Kanye worked on the album. That's at least a nine month "jail" time Kanye gave himself.
The juvenile hall time in "Swimfan."
In the film "Swimfan," swimmer Ben spent six months in juvenile hall for some drug-related crime, Wikipedia tells me. That's double the time real life swimmer Turner spent in jail for sexually assaulting someone.
Getting grounded
People spent more time being grounded for bad grades and other home offenses than Turner spent in jail, according to many Twitter users:
The case itself.
The assault happened in January 2015. Turner was sentenced in June 2016.
The trauma that the woman dealt with because of the assault was far longer than three months -- and, arguably, is ongoing. The woman Turner assaulted wrote in her letter,
For three months, I went to bed at six o'clock in the morning. ... You have no idea how hard I have worked to rebuild parts of me that are still weak. It took me eight months to even talk about what happened. I could no longer connect with friends, with everyone around me. I would scream at my boyfriend, my own family whenever they brought this up. ... My life has been on hold for over a year, a year of anger, anguish and uncertainty, until a jury of my peers rendered a judgment that validated the injustices I had endured.
The judge gave Turner a short sentence because he was worried a longer sentence would have a "severe impact" on the convicted rapist.
Three months in jail was nothing compared to what this woman went through -- and is still going through.
The most we can hope for is that the impact of this case will last longer than three months and will be used to change sentencing norms and people's perspectives on sexual assault cases.
People always ask why women don't report rape to the police. Maybe it's because they know, statistically speaking, a court case will hurt them for longer than it will hurt the assailant.
Citations: NBC News, BuzzFeed, NORML, New York Times, USA Today, Complex