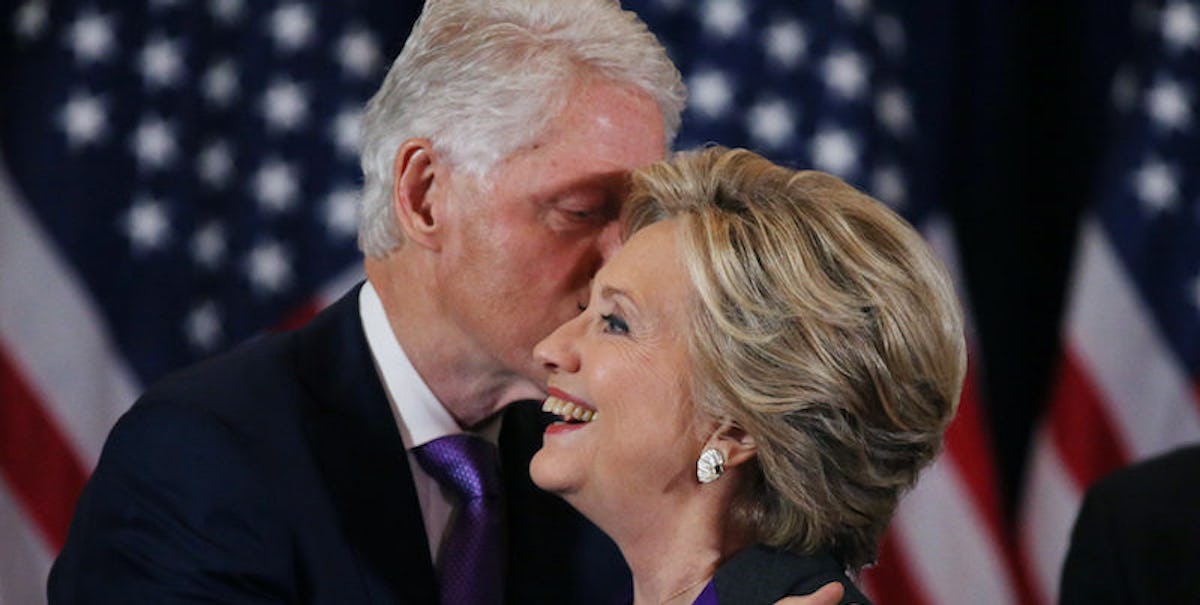 Bill Clinton Mouthed 'That's My Girl' During Hillary's Speech And We're Crying
REUTERS
I've been crying on and off all day long, and Bill Clinton just made me shed another tear.
It wasn't a tear of disappointment or anxiety, though. It was a tear of admiration toward Bill Clinton's immense love for his wife, Hillary.
Bill has stood by Hillary's side from the moment she began running to be the first female president of the United States. Their daughter, Chelsea, showed constant support for her mother throughout her campaign.
Last night, after Donald Trump became our president-elect, the Clintons were stunned. In fact, the nation was stunned.
On Wednesday morning, Hillary Clinton gave her concession speech at the New Yorker Hotel in Manhattan... and you'd better believe Bill was right by her side.
During Hillary's speech, Bill Clinton mouthed, "That's my girl."
We all lost it.
Before Bill Clinton's public display of affection for his hardworking, inspirational wife, Hillary states,
To the young people, in particular, I hope you will hear this. I have, as Tim said, spent my entire adult life fighting for what I believe in. I've had successes, and I've had setbacks... sometimes really painful ones. Many of you are at the beginning of your professional, public and political careers. You will have successes and setbacks too. This loss hurts. But please, never stop believing that fighting for what's right is worth it.
As the audience cheers and fights back tears, Bill smiles at Hillary. It's easily the sweetest thing I've ever seen.
I'm going to need another box of tissues.
Although Hillary did not win the election, she made history by being the first woman to run for president on the ticket of a major political party. Everyone's on edge with all these emotions.
Her family, friends and supporters have shown her nothing but strength throughout her campaign journey. They admire her deeply, and will continue to do so.
Yup. That's his girl.
I'm going to go cry into my work computer again.