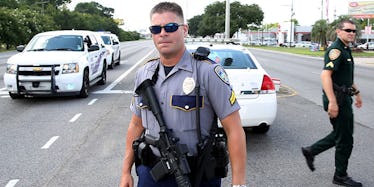 Multiple Officers Shot And Killed In Baton Rouge, Mayor's Office Confirms
REUTERS
Update 6:05 PM EST: Police have now made arrests in connection to Sunday morning's shooting in Baton Rouge, according to the Associated Press.
Update 4:50 PM EST: Reports now point to a 29-year-old man from Missouri being identified as the suspected shooter.
WATCH: Baton Rouge gunman identified as Gavin Long of Kansas City, Missourihttps://t.co/ggOZwWd8k2 — TODAY (@TODAYshow) July 17, 2016
Update 4:15 PM EST: Louisiana State Police superintendent Mike Edmonson announced during a televised press conference that there is no active shooter situation in Baton Rouge.
However, in addition to the three officers who lost their lives, Edmonson confirmed that a fourth officer is in critical condition after suffering "life-threatening" injuries.
Update 2:20 PM EST: Baton Rouge police do not believe the attack is related to race, though it is still unclear whether it was a targeted attack specifically on police.
Update 12:48 PM EST: Police confirm that three officers, in fact, have died. One suspect has been killed, while two others are believed to be on the run.
One suspect dead in Baton Rouge, others may be at large, sheriff's official says. https://t.co/u52Ea97Ny8 https://t.co/Sdf5fjo9vQ — CNN Tonight (@CNNTonight) July 17, 2016
Two Baton Rouge, Louisiana police officers were shot dead on Sunday morning, the office of the mayor-president confirmed.
The news comes after Holden told CNN of fears there were three officers dead after a shooter opened fire near the Airline and Old Hammond highways, Baton Rouge's The Advocate reports.
According to The Advocate, police shut down the area in which the shooting reportedly took place and are treating the situation as "active."
But while the mayor's office confirmed two officers killed, CNN, citing a source "with knowledge of the investigation," reported that three officers died along with seven being wounded.
The shooting comes against the backdrop of recent protests in Baton Rouge, which were sparked after the police shooting of Alton Sterling there was recorded and shared nationwide.
Those protests occurred as other demonstrations have taken place across the country, with the shooting of Philando Castile in Minnesota prompting similar protests against police brutality.
The shooting in Baton Rouge is the second such attack on police officers in the past two weeks, with five officers having been killed last week during a protest in Dallas, Texas.
All of these preceding events have informed a national discourse on police-civilian interaction, a conversation which is sure to be impacted by Sunday's events in Baton Rouge.
More details will be provided as they come.
Citations: Two Baton Rouge police officers dead, multiple shot, authorities say (The Advocate)