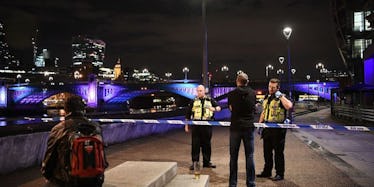 Three Incidents Occurred In London Tonight, But They May Not All Be Connected
Carl Court/Getty Images
Several violent incidents — two of which are believed to be "terrorist incidents" — have occurred in London, England, tonight.
At about 10 p.m. (5 p.m. ET), police responded to reports of a van that drove into a number of pedestrians crossing the London Bridge, according to CNN.
Metropolitan Police also responded nearby to a stabbing incident at London's Borough Market, which is only a short walk away from the London Bridge. A witness told CNN said individuals at the market were stabbed by a man with a "massive knife."
Metropolitan police also tweeted that both the incident at Borough Market and the London Bridge are being treated as "terrorist incidents."
CNN reports that London police also responded to an earlier incident in Vauxhall, London.
Metropolitan Police tweeted that this third incident in Vauxhall was a stabbing, and law enforcement does not believe this incident is connected to the later attacks.
According to BBC, about the incidents at London Bridge and Borough Market, British Prime Minister Theresa May said,
Following updates from police and security officials, I can confirm that the terrible incident in London is being treated as a potential act of terrorism. This is a fast-moving investigation. I want to express my huge gratitude to the police and emergency services who are on the scene. Our thoughts are with those who are caught up in these dreadful events.
Mark Roberts, a witness to the attack on the Bridge, spoke to CNN, saying that the van was speeding and swerving as it struck pedestrians.
"Within my line of sight, there were five or six people on the ground that were not moving. It looked to me that the van was aiming at the people," Roberts said.
The stabbing at Borough Market occurred shortly after the attack at London Bridge, and police confirmed that shots had been fired at the Market.
According to CNN, an eyewitness of the Borough Market attack said,
Someone said, 'What is going on?' and one of the people running said, 'There is a man with a knife up there and he is coming this way.' There was complete panic as everyone ran to the back of the restaurant and crouched down trying to hide themselves from view.
The witness continued, "A man suddenly appeared in the restaurant with a massive knife — some people in the restaurant believe there may have been another man — but it was so chaotic it was hard to tell."
Following both incidents, London Mayor Sadiq Khan said,
We don't yet know the full details, but this was a deliberate and cowardly attack on innocent Londoners and visitors to our city enjoying their Saturday night. I condemn it in the strongest possible terms. There is no justification whatsoever for such barbaric acts.
These attacks come less than two weeks after 22 people were killed and about 60 injured during a bombing at an Ariana Grande concert at the Manchester Arena in the UK.
Our thoughts are with the victims of these senseless attacks, as well as their loved ones.