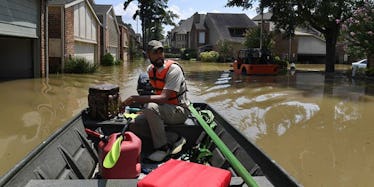 Another Hurricane Is Coming Towards The U.S. And It's Stronger Than Harvey
MARK RALSTON/AFP/Getty Images
Just as Houston begins to recover from the record flooding thanks to Hurricane Harvey, an even stronger storm, Irma, is making its way through the Caribbean and looks likely to hit the U.S. later this week, Sept. 9 and 10. The answer to how bad will Hurricane Irma be worsened on Tuesday morning, Sep. 5, which is when Irma was declared a Category 5 storm by the National Hurricane Center (NHC), which also said the storm is carrying winds up to 175 mph.
The NHC also indicated Irma's status could change on multiple occasions throughout the coming weeks, saying,
Some fluctuations in intensity are likely during the next day or two, but Irma is forecast to remain a powerful category 4 or 5 hurricane during the next couple of days.
Where Will Hurricane Irma Land?
Irma's current trajectory puts in on track to travel through parts of the Caribbean at a Category 5 strength. During the weekend, the storm is then expected to turn upwards from Cuba and impact the southern tip of Florida -- as well as the Florida keys -- at a Category 4 strength with winds up to 150 mph, according to a projection from The Weather Channel.
Hurricane Harvey, by comparison, also made landfall in Texas as a Category 4 storm, but with winds up to 130 mph.
Though the exact danger Hurricane Irma will pose to the U.S. is still unknown, Florida Gov. Rick Scott still declared a state of emergency on Monday for every county in his state.
The governor said in a statement,
In Florida, we always prepare for the worst and hope for the best and while the exact path of Irma is not absolutely known at this time, we cannot afford to not be prepared.
Hurricane Harvey was the first hurricane at Category 3 or higher to hit the U.S. in over 12 years, and its impact on Texas is expected to demand years of recovery efforts.
Now, an even stronger storm is making its way through the Caribbean and up towards Florida. How much damage Irma will or will not cause, however, remains unclear.