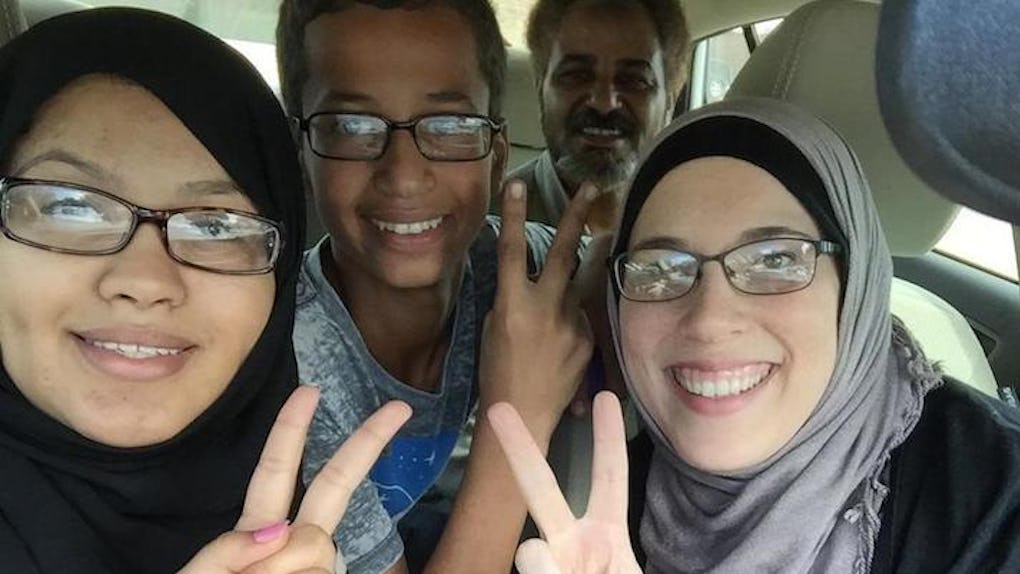 Twitter
Ahmed Mohamed Will Not Return To The High School Where He Was Arrested
Associated Press reports Ahmed Mohamed, the teen who was arrested after officials thought a homemade clock he brought into school was a bomb, will not return to MacArthur High School in Irving, Texas.
According to Ahmed's father, Mohamed Elhassan Mohamed, his parents still do not know exactly where they want to send their son next; they just know it won't be to the school that wrongfully had police arrest the 14-year-old student.
Since Ahmed's story went viral on Tuesday, he's been the center of a debate on whether school officials took rightful action against the freshman or if their decision to call police on the teen had discriminatory undertones.
After news spread of his run-in with the law, people supporting the teen took pictures of themselves holding clocks and posted them to Twitter with #IStandWithAhmed.
Since the incident, Ahmed was invited to visit the White House, Facebook, Harvard and MIT.
Cool clock, Ahmed. Want to bring it to the White House? We should inspire more kids like you to like science. It's what makes America great. — President Obama (@POTUS) September 16, 2015
School officials said, even though they knew Ahmed intended to transfer to a new school, they'd happily welcome him back to MacArthur if he wanted.
MacArthur High School's director of communications told ABC News,
[Ahmed's] certainly welcome [back]. We're confident that we can continue to provide him with an excellent education, but we want him to feel safe along with the other 2,800-plus students on campus.
The director of communications also said the school stands by the teacher's decision to alert the police and refuses to lift Ahmed's three-day suspension.
Citations: Ahmed Mohamed Will Not Return To MacArthur High School, Family Says (Huffington Post), MUSLIM GROUP DOESN'T FAULT SCHOOL, POLICE FOR DETENTION (Associated Press)