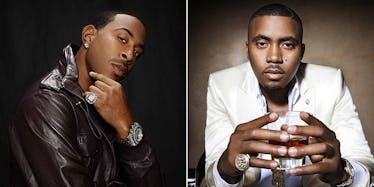 10 Rappers You Never Knew Were Insanely Successful Businessmen
Tumblr
A hustler's ambition never sleeps.
Even for some of the most successful rappers in the game, a sole focus on a music career just isn't enough to keep them happy.
They need to have their hands in multiple pots, diversifying their bonds and getting money from all directions.
For some, it gives them leverage for their artistry and keeps them more well-rounded. For others, it's their main focus and new foundation for success.
Heavy hitters like 50 Cent, Jay Z, Diddy and Dr. Dre have all been notorious for their business acumen through the years, but there's been a few other rappers who've been low key doing their thing, too.
We salute these men.
Ludacris
Real Name: Christopher Bridges
Net Worth: $25 Million
Age: 37
Ludacris is a veteran in the game since debuting in 1997.
His epic career as a rapper-turned-actor is one of the most relevant, thanks to the recent release of "Furious 7," but most people forget he's also a successful business mind in his own right.
Aside from starting his own record label, Disturbing tha Peace, he's the co-owner for Conjure Cognac and an investor for SOUL headphones, among others.
In an 2012 interview with Forbes, Ludacris explained his vision when it comes to partnering with brands. He said,
When we talk about building brands, we're not in it for the short run. It's not about getting in and hurrying up and trying to sell something… We get offers all the time; that doesn't mean we take every offer that comes to us.
Still, Luda's endless collection of platinum hits and consistent music sales are what keep him at the top. And his new album, Ludaversel, is TOO FIRE.
Usher
Real Name: Usher Raymond IV
Net Worth: $180 Million
Age: 36
You can pretty much retire after jumpstarting Justin Bieber's career, but Usher hasn't slowed down one bit.
Not only has he put out quality music since 1991 (listen to his new track with Migos here), but he's been getting to the money like only few can say.
In 2008, Usher started Raymond Braun Media Group record label with with Bieber's agent, Scooter Braun, and it's been wildly successful because of its main star.
Usher also owns part of the Cleveland Cavaliers (a team worth $1 billion) and owns several restaurants throughout the world.
Not to mention, he's also a host on "The Voice" and started a nonprofit charity that "provides young people with a new look on life through education and real-world experience." Usher is the man.
Chamillionaire
Real Name: Hakeem Seriki
Net Worth: $15 Million
Age: 35
Many people have been wondering where Houston rapper Chamillionaire has been since "Ridin" dropped in 2005.
The answer is advising tech startups.
The Grammy-winning rapper has been investing his money wisely since 2007. He made several investments with Upfront Ventures partner Mark Suster who employed him as EIC (Entrepreneur In Residence) at the company.
Hakeem is well respected within the entrepreneurial community and he gives many talks at conferences around the country. This man is really about this tech life.
Master P
Real Name: Percy Miller
Net Worth: $350 Million
Age:  47
Master P has been an OG since 1990, and he was even credited for helping resurrect Snoop Dogg's career at one point. But, it's his business ventures that have him on top after all these years.
From the start of his rap career, he began investing in everything: real estate, stocks, auto parts, jewelry lines, gas stations and even a phone-sex company.
He even spent time as a sports agent and handled Ricky Williams' fat rookie contract in the NFL, but it was his record label, No Limits Records, that earned him the most money.
According to Forbes, No Limit Entertainment earned around $100 million in 1998 alone.
According to TMZ, his ex-wife estimates the company is now valued around $136,101,000 -- the exact reason she wants $67 million as a parting gift.
Percy Miller now owns 41 companies, 31 properties and 13 cars. Oh, and don't forget about his "Make Em Say Ughh!" energy drink. Sh*t is lit.
Chuck D
Real Name: Carlton Ridenhour
Net Worth: $15 Million
Age:  54
Many of us remember the classic 90s group Public Enemy. It spawned the wild personality of Flava Flav and a prolific businessman in Chuck D.
In 2000, he sold his phone company, Chuck D Mobile, to VeriSign for $250 million.
And just this year, he helped an Internet radio station for Record Store Day, according to Billboard. Flava Flav is somewhere wishing he was Chuck D.
Akon
Real Name: Aliaune Damala Bouga Time Bongo Puru Nacka Lu Lu Lu Badara Akon Thiam (Deadass.)
Net Worth: $80 Million
Age: 41
Similar to Usher, Akon is in part responsible for the success of Lady Gaga's career and has two successful record labels, Konvict Muzik and KonLive Distribution.
However, some strategic business moves in the film and fashion world propelled him to even more success.
He now spends a majority of his time doing philanthropic work throughout Africa and owns a diamond mine. Akon donates much of the profits from the mines to neighboring communities.
He's sold over 12 million albums worldwide and even has his own NASCAR team. Seriously.
Pharrell
Real Name: Pharrell Williams
Net Worth: $97 Million
Age: 42
Pharrell's musical excellence has always been respected, but his passion for other areas such as fashion and culture brought him even higher.
In 2005, Skateboard P collaborated with BAPE to create Billionaire Boys Club and Ice Cream, two of the most popular streetwear brands in the industry.
He would go on to collaborate with more brands -- Louis Vuitton, Moncler and G-Star Raw -- and recently signed a long-term deal with Adidas.
Pharrell even composed soundtracks for films such as "The Amazing Spider-Man 2" and "Despicable Me."
It's also clear he invests most of his money into never aging.
Nelly
Real Name: Cornell Haynes, Jr.
Net Worth: $60 Million
Age: 40
Nelly has been off the radar since becoming a fully-committed family man, but he's been making sure to take care of his kids in other ways than music.
He has endorsements with Reebok, Ford, Got Milk? and previously, Nike, plus his energy drink, Pimp Juice, sold one million cans in its first two months.
He even had a female clothing line that specialized in Apple Bottom jeans, and at one point, he part-owned the Charlotte Bobcats before Michael Jordan bought them.
In addition to starting 4Sho4Kids Foundation and Jes Us 4 Jackie, Nelly supports DoSomething.com's "Tackle Hunger" campaign. In an interview with Billboard, he said,
We try to feed as many hungry kids in this country as possible. I know we do a lot to help people outside this country, but we have so many kids inside this country that need our help as well.
Good man!
Nas
Real Name: Nasir Jones
Net Worth: $20 Million
Age: 41
Nas is right up there with some of the hardest working businessmen in rap.
He signed on to be an associate editor for Mass Appeal in 2013 for an undisclosed six-figure deal, partnered with Hennessy for the "Wild Rabbit" campaign and invested as part of a $2.8M round in ViralGains, a viral video startup.
He also signed a contract with Fila to create his own sneaker, partnered with the Rock The Bells tour and partnered with Koru to provide scholarships for 10 college graduates. The list really keeps going on after that.
Don't be surprised if you see Nasir continue to climb this list for years to come.
Birdman
Real Name: Bryan Williams
Net Worth: $170 Million
Age: 46
If you ever wondered why Birdman has a Bugatti in every color, it's because he knows what he's doing.
However, it's his 2010 oil investments that took his racks to the next level.
Birdman actually founded his own oil and gas exploration company, Bronald Oil and Gas, LLC.
While his earnings from this are undisclosed, he's been quoted as saying he'll "spend your bank full of hundred Bs in your face."
Besides that, he's the cofounder of Cash Money Records, the label that helped jumpstart the careers of Lil Wayne, Drake, Nicki Minaj and most recently, Young Thug.
Those residual checks continue to pay off for the Rich Gang leader.