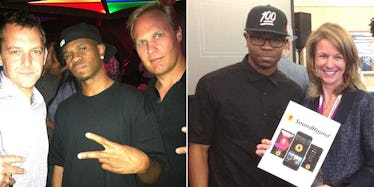 If You Wondered Where Chamillionaire Is, He's Advising Tech Startups
Twitter
Not all one-hit wonders go to die after everyone forgets about them.
Most of us remember Houston rapper Chamillionaire for his 2007 hit, "Ridin'," and now, you're probably wondering where he's been since. Maybe not.
Well, not only has he completely swerved on his career path while simultaneously keeping his rapper name, but he's still probably richer than you!
Hakeem Seriki (Chamillionaire's government name) has been on the tech scene since he met Upfront Ventures partner Mark Suster in 2009.
He even appeared in a one-on-one interview with Suster discussing how he uses social media to engage his audience.
You can watch an hour-long discussion below if you ain't get sh*t else to do!
The two formed a bond after the conference and began discussing the opportunities in technology and entrepreneurship.
They began making small co-investments together, and when Mark began to notice Chamillionaire's savviness on the field with other entrepreneurs, he introduced him the art of advising startups.
To take the next step in this budding partnership, Suster appointed Cham as the Entrepreneur In Residence (EIC) in a letter posted on BothSidesOfTheTable.com
According to Suster, this wasn't just to get one of his favorite rappers on his side. He knows what he's doing. He said,
Chamillionaire has a way more refined sense of what customer behavior is like than most ivy league graduates with nice Powerpoint slides that I meet.
The residency gives Chamillionaire more freedom to work directly with Mark and travel with him during his hectic schedule of meetings, conferences and being on the "scene."
And if you're wondering exactly how tech Chamillionaire has gotten since ditching his rap career, let's just say he was at Burning Man. #VeryTech.