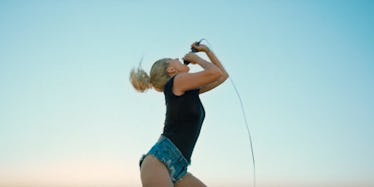 Lady Gaga Rages Out In A Mosh Pit In 'Perfect Illusion' Music Video
Youtube
Lady Gaga is officially back, Little Monsters. (Do we still call ourselves "Little Monsters?" Maybe we're Big Monsters now.)
While her new single "Perfect Illusions" is eating up the airwaves, we finally have our first view of the hardcore music video to go along with it.
Needless to say, she does not look all too happy in the music video. In fact, it kind of seems like she's raging out over her love life a bit.
Between becoming the Super Bowl's halftime show performer, she's also in the throes of breaking up with her longterm fiancé, and finally putting out some new music.
That's a lot to rage though.
Of course, she also has reason to rage in the video: her jeep breaks down in the middle of a desert.
Lady Gaga's fifth album, Joanne, will be released on October 21.
It was produced by Mark Ronson and will reportedly feature 11 songs. Three more songs will be available on the deluxe version.
Hillary Lindsey, a songwriter who has worked with both Taylor Swift and Carrie Underwood, collaborated on a few of the tracks for the album.
Joanne will not be exclusive to any distributor. Lady Gaga said,
I told my label that if they signed those contracts with Apple Music and Tidal, I'd leak all my own new music.
The album itself was finished just two days ago. She added,
There's definitely a bittersweetness to [finishing the album]. This isn't the end just the end of this moment. It's also the beginning of this moment.
She revealed that the album is named after her aunt who passed away when she was 19, saying,
When Mark and I wrote it, the decision to name the album that was in tribute to my father's sister who died when she was 19. He was younger than her. She was very sick with lupus. The death of her in his family and life left a scar that never healed... It's all the toughness of the pain of losing her that made us all strong and made us who we are. She is the woman of my past who is becoming and helping me bring more of my honest woman self into the future.
Citations: Okay, start screaming: Lady Gaga's 'Perfect Illusion' video is here (Mashable)