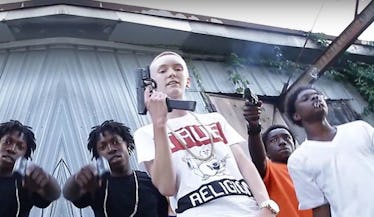 How The Internet Birthed Slim Jesus, The Worst Thing In Hip-Hop
YouTube
The Internet is responsible for pretty much every trend these days, which can be both a good and bad thing. But nine times out of 10, it's going to be bad.
Yelling "what are those" at someone wearing Skechers is something we should all teach our children, but my daughter will never know about "Netflix and chill." Believe that.
However, the Internet is mostly used to perpetuate the most terrible sh*t we wish didn't exist created by dumbass people.
Slim Jesus, an 18-year-old Ohio rapper, and his song "Drill Time," which has over 7 million views, is one of them.
White kids from the suburbs being heavily influenced by everything they see online isn't anything new, but this is officially the next level.
The whole song and video are pretty damn terrible with absolutely no originality but, because this is the Internet, of course he's blowing up.
Slim Jesus, who's real name is Easton Phillips, hails from a suburb in Cincinnati -- a far jump from the violent-stricken areas of Chicago where drill music originated.
With lyrics like this, you'd think he was raised in the South Side.
Got a couple shooters and they ride with me And they down to shoot when it's drill time Pull up and we get to drumming Let 30 shots out that Glock nine
The graphic lyrical content -- rapping about shooting guns and killing people -- is a grim reflection of the reality in the city, something Slim Jesus admittedly says he knows nothing about.
In an interview with VladTV, Slim Jesus says he's "not stupid" but actually "knows people" who are wrapped up in that life.
He's actually gained some respect from other artists by admitting he's not about that life, but should he really?
With absolutely no creativity, this kid went viral overnight and is going to get a quasi-career that's destined to die out quicker than it started. So why is he getting all of this buzz and attention?
Well, it's mostly because it's hilarious to see a white kid rap like this, but it doesn't help that other artists are encouraging him.
Diplo tweeted he was bumping some Slim Jesus.
just at home with my friends listening to slim jesus — diplo (@diplo) September 9, 2015
French Montana actually gave him a cosign.
@TheSlimJesus ft. @MONTANAof300 #ComingSoon — MONTANAof300 (@MONTANAof300) September 20, 2015
Even Diddy (though probably jokingly) offered him a deal with Bad Boy Records. He's since deleted the tweet.
Plus, he got to meet his idol and drill legend, Chief Keef.
Once something like this gets rolling, there's no turning back.
The Internet is a place where mediocrity is treated like greatness and artists with no talent at all can make a name for themselves.
We've gotten to the point where if something is so trash, it's fire.
Not everybody approves of Slim Jesus, though. The Game recently spoke to Complex where he gave the young rapper some sound advice about making lyrics that don't really reflect his lifestyle.
The Game says: "I think that Slim Jesus either really better be f*cking killing or he's gonna get his ass smoked."
What Slim Jesus, and everyone who's supporting him, needs to understand is encouraging fake sh*t and unoriginality is wrong, not just in music, but in life.
The Game continued,
I worry about kids these days rapping about things that they're not really about... You got people that are really doing that that are offended.
Not only that, but the scene SJ is throwing himself into is a dangerous one -- many rappers within the drill movement have lost their lives. This sh*t ain't no game.
Slim Jesus, like most kids these days, hasn't considered the consequences of his actions. Just look at Bobby Shmurda: He was actually about that life and got locked up for it.
Trying to glorify what you see on the Internet just because you think it's cool is wrong and, more importantly, corny.
With one last piece of advice, The Game made it clear playing around like this could cost someone his or her life.
Sometimes, I think it's sad man because their lives can be lost when playing those games. Be careful Slim Jesus.
With that said, I'm going to leave this here. Thanks, Internet!